'Billions' Has the Best Terrible Dad on TV
Charles Rhoades Sr. only needed one scene to remind everyone how ruthless he can be.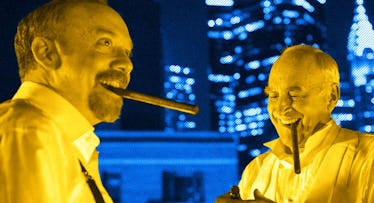 The fourth season of Billions premiered last night, bringing all the vicious backstabbing, shady backroom dealings, and kinky sex we have come to expect from the hit Showtime series. And while Chuck (Paul Giamatti) and Axe (Damian Lewis) remain two of the biggest assholes you love to hate (or hate to love) on television, the first episode was undoubtedly won by Chuck's dad Charles, as he displayed all the ruthlessness and cruelty that has made him one of the most enjoyable dads on TV (for all the wrong reasons).
Terrible dads are a staple of the new Golden Age of Television. Tony Soprano. Don Draper. Walter White. The list goes on. But since Tywin was murdered on the can by Tyrion at the end of the fourth season of Game of Thrones, there has been a noticeable void in terms of dads who are equal parts negligent and compelling. Fortunately, Charles Rhoades Sr. only needed three minutes of screen time to solidify his current status of the TV's best bad dad.
After having his U.S. Attorney title stripped from him at the end of last season, Chuck is back in the private sector, which means doing favors for rich, powerful people in the hopes of once again becoming a rich, powerful person. His first task is getting a carry and conceal permit for a wealthy client. The problem? They're virtually impossible to attain in New York unless you're a retired cop. Initially, Chuck tries to talk his client out of this request but that is when Charles Sr. steps in to set his "pathetic" son straight.
"I sent that man into you because he is important in the very city we in which we live, and state, with all the benefactors you will need," Charles says to his son, revealing that he is very much pulling the strings in his son's life.
Chuck Jr. tries to argue the difficulty of this task but his dad isn't having it and tells his son that he needs to go on the "offensive." Why? As attorney Ira Schirmer explains that Bryan, the new U.S. Attorney is going to be looking into Chuck's old cases, meaning that his career could be ruined, along with his reputation and name.
"His name?" Chuck Sr. says. "That's my name he's wearing and it will not be besmirched."
After explaining that he is very much in charge of his son's path to redemption and revenge, he then delivers the final blow by getting personal with his son.
"I would slap your face and tell you to act like a man if I didn't think it would turn you on," Charles says referencing his son's penchant for BDSM. After being thoroughly dressed down by his dad with just a few choice insults, Chuck Jr. is sent on his way.
This brief interaction serves as a perfect thesis of who Charles Rhoades Sr. is: brilliant, calculating, and altogether terrifying. Hopefully, this won't be the last we see of Chuck Sr. because while we are certainly glad he's not our dad, we can't wait to see all the insane ways he manages to manipulate and infuriate his son on his vengeful journey this season.