The Best New Thing on Disney+ Is a Surprise 'Simpsons' Crossover
Nobody knew we needed this.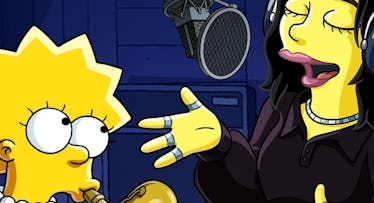 Credit: Disney+
What happens when Oscar- and Grammy Award-winning pop sensations Billie Eilish and FINNEAS make the acquaintance of the ageless, saxophone-tooting Lisa Simpson? Well, we'll all find out on April 22, when Eilish and her equally talented brother FINNEAS team up with The Simpsons for When Billie Met Lisa, an all-new short that will premiere on Disney+.
Eilish tweeted the big news at about 12 noon on April 14, and Disney+ followed that up with a press release distributed to the media. Here's the official synopsis of the short: "In When Billie Met Lisa, Lisa Simpson is discovered by chart-topping artists Billie Eilish and FINNEAS while searching for a quiet place to practice her saxophone. Billie invites Lisa to her studio for a special jam session she'll never forget."The Eilish-Simpsons collaboration is the latest –and fourth – entry in Disney+'s collection of exclusive shorts that pair The Simpsons with other popular personalities and in-house properties. Viewers have already been treated to Maggie Simpson in The Force Awakens from Its Nap, a Star Wars and Marvel-themed short; The Good, The Bart, and The Loki, which featured the voice of Tom Hiddleston reprising his role as the god of mischief; and The Simpsons in Plusaversary, which included quick cameos by numerous characters under the massive Disney umbrella, from Cinderella, the Mandalorian, Cruella de Vil, and WALL-E to Tinker Bell, BB-8, Doctor Strange, and Mulan. Maggie Simpson in The Force Awakens from Its Nap, The Good, The Bart, and The Loki, and The Simpsons in Plusaversary are all available now to stream on Disney+. When Billie Met Lisa, as noted, will start to stream on April 22. Meanwhile, Eilish is just about to complete the U.S. portion of her Happier Than Ever World Tour.
After a short break, she'll venture off to Europe in June for shows in England, Ireland, the Netherlands, Germany, France, Belgium, and Switzerland, followed by performances in Australia and New Zealand.
This article was originally published on