Here's 7 Reasons To Love 'Big Nate' On Nickelodeon
The popular kids' books series is now a great new show. Here's what to know.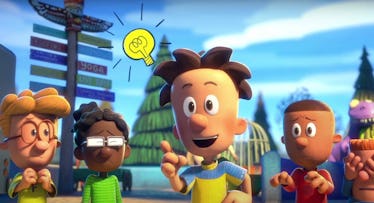 Credit: Paramount+
Ben Giroux is really just a big kid. And that comes in mighty handy when the 37-year-old actor and voiceover artist steps behind a microphone to provide the voice of 11-year-old Nate Wright for Paramount+'s newest animated series, Big Nate, based on the comic strip and bestselling children's books strip of the same name by Lincoln Peirce. Nate is a smart, precocious sixth-grader who expresses himself by drawing inventive cartoons and tries to project an image of awesomeness, when, just beneath the surface, he's as occasionally insecure as any of his friends and classmates.
Big Nate is streaming now Paramount+, and we think this adaptation of the hilarious books is worth a look. Here are seven reasons we think the show is worth your time and why its star has infections charm.
Big Nate is a Nickelodeon Show Made by Old-School Nickelodeon Fans"I watched Doug and Rugrats and Ren and Stimpy," Giroux says during a recent, exclusive conversation with Fatherly. "Doug stands out because I could empathize with his character. I felt akin to him. In many ways, Big Nate is a combination of aspects of all those shows I just referenced. The thing that appealed to me most about those 90s Nicktoons was there was an edge to the comedy. Adults and kids alike could really enjoy various jokes and storylines, and the same is true of Big Nate. It feels nostalgic. In fact, we utilize 80s and 90s songs throughout. Big Nate and his friends go to P.S. 38, which is an underfunded public school, and the school looks like it's from another era. And you will see rotary phones. I really appreciate that level of nostalgia.Giroux Sees a Lot of Himself in Nate"We are really all playing elevated versions of ourselves on this show, so there's a real authenticity to the performances," he says. "In sixth grade, I drew. I doodled. I almost went into the fine arts before landing in this very stable career of entertainment. My real-life writing and improv partner, Arnie Pantojo, who plays Teddy Ortiz, my best friend on the show, we get to improv as Nate and Teddy. There's there's an absolute authenticity to that interaction. Dee Dee, who's played by my dear friend, Bryce Charles, is a cosplayer and theater nerd. Bryce and I have done theater together. So, there are some coincidental real-life interactions, relationships, and friendships that I've developed with the cast, and I think it has strengthened the bond we all have on-screen, if you will, as our characters."Haven't you heard? Big Nate Is EverywhereLincoln Peirce created Big Nate as a comic strip in 1991. It started out in nearly 200 newspapers and today it's in almost 400 papers and online. Additionally, there are 41 Big Nate print collections and novel books available, plus six activity books. And there was even a stage musical, brilliantly titled, Big Nate: The Musical, that ran in 2013 at a theater in Maryland.Giroux Believes That Kids – And Their Parents – Will Relate to Nate"Nate has this bravado, this cockiness, this confidence that is a little unearned," he says. "The thing I admire most about Nate is his confidence, even if he is covering up some deep-seated insecurities because he doesn't really care what people think of him. That's a lesson we could all learn. In many ways, I would say this is a do-over on sixth grade for me because I was an introverted kid that struggled to make friends. Nate doesn't have those problems at all. He's got this tight-knit group of friends, they go on adventures, they get into trouble. If he gets people in trouble, he's the first to admit, 'Hey, I messed up. I apologize.' So, you'll get to see some of the pathos of Nate's character as well. I think of him as a really multi-dimensional character, and we can all empathize with and relate to somebody that is both an extrovert and an introvert.Big Nate Author Lincoln Peirce Didn't Want the Show to Copy His Books"We briefly met Lincoln, but I actually give him and our writers and showrunner, Mitch Watson, a ton of credit, because they've really allowed us to make this our own," Giroux says. "Lincoln also has really allowed Mitch to develop new storylines and new adventures that are not really evident in the books and comic strips. Certainly, we honor the source material, but we are inviting in a new generation of Big Nate fans. I give Lincoln a lot of credit for being very involved, but also letting really talented people do what they're great at."Big Nate's Voiceover Cast Records – Together – Over Zoom"I'm talking to you from my home voiceover studio," Giroux says. "I booked this role the first week of the pandemic, in March 2020. And, if you can believe it, no one from this show has ever been in the same room. We still record as an ensemble every week over zoom. That has really benefited the show because we're able to riff and react and work with each other, and play off of each other's performances, but, physically, we are all in our own home studios. If you see the show, you'd never believe it."Where Else You've Heard the New "Big Nate," Ben Giroux
"I think most kids, from my on-camera work, know me from Henry Danger," he says. "I've played The Toddler for about 10 years on Henry Danger and Danger Force. Moms and dads have probably seen me on plenty of shows. I always feel like 'That guy from that thing.' I've been on Bones and House and Psych and Anger Management and NCIS. I'm very grateful to have a long-time television career. Teens also probably know me from TikTok. I've got about four and a half million fans on the platform. Adults with social media probably know me from my hip-hop comedy music videos. My writing partner, Arnie, and I have optioned a handful of original things, and are in various stages of development on that. I'm directing a documentary right now. I direct commercials and music videos. I like to say I've got my hands in a lot of different projects. And I'm very grateful to be busy in entertainment despite being in a global pandemic."
Big Nate is streaming now Paramount+.
This article was originally published on