Big Bird's Granny Got Big Bird Vaccinated
A new spot aims to help parents make informed decisions on vaccines for kids.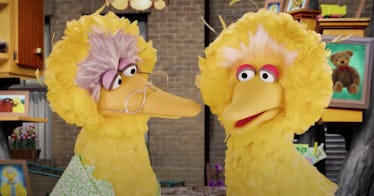 Sesame Street has been an amazing resource throughout the pandemic. Sesame Street launched the COVID-19 Vaccine Education Initiative which aims to help parents and kids get accurate information about the coronavirus and the available vaccine. And the latest installment talks about why Granny Bird chose to get Big Bird vaccinated.
The pandemic is scary for kids. Having to get a needle is scary for kids, too. But Sesame Street believes that taking some of that fear away can be done by showing kids the process. And to do this, they've enlisted the help of Big Bird and his grandma who talk about the available vaccination and its importance.
"The goal is to encourage parents of kids 5+ throughout the country to get the facts/info they need to make an informed decision for themselves and their families," the company said in a press release about the latest PSA, an initiative between Sesame Workshop and WarnerMedia.
The new spot opens with Granny Bird asking how 6-and-a-half-year-old Big Bird is feeling after receiving his vaccine. Sporting a Band-Aid, he says that he feels OK, but his "wing hurts a little but that it's okay."
Granny Bird assures him that his "wing may hurt for a day or two," and that he "might feel a bit tired," but also made sure to let Big Bird know that he did a great job.
Granny then turns to the camera and shared the reason she made the decision to get Big Bird vaccinated. "I made the decision to get Big Bird vaccinated because the COVID vaccines are the best way to keep yourself, our friends and neighbors, and me safe and healthy."
The spot ends with a note to parents encouraging them to speak with their child's pediatrician or healthcare provider to get the latest facts about the vaccines.