The Best Treehouses for Families on Airbnb
It's every kid's dream to spend the night in a treehouse. Here are 9 of the coolest for your next vacation.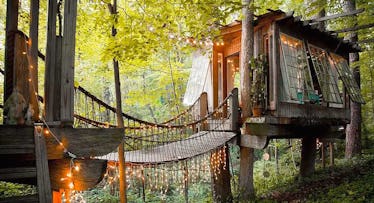 It's the childhood dream that never fades: spending the night in a backyard treehouse. And thanks to Airbnb, kids can live out that dream even if they don't have a backyard with a treehouse of their own. With a treehouse vacation rental, parents can fulfill with their kid's dream of sleeping in a treehouse without sacrificing a night's sleep on a hard wooden floor ⏤ no 2x4s, sleeping bags, or flashlights required.
Over the past decade, there's been a boom in vacation rentals around the country, including those of the treehouse variety. From rustic forts nestled in the trees to exotic hideaways with luxurious accommodations, it's easier than ever to find a treehouse rental that fits almost any style and budget, in almost any state. Whether you want the camping experience, or something more akin to a glamping vacation, there's a treehouse on Airbnb for everyone. The only problem, at least for families, is that treehouses aren't always the safest for kids, especially when step ladders and rope bridges are involved (the irony, right?). As such, renters often advise against young guests. That said, not all treehouse rentals are off-limits to kids. Here are 9 of the coolest treehouses families can rent on Airbnb. The prices reflect high season rates, which can be as much as half off during less popular times of year.
All Ages
Trailside Treehouse in Richmond
Richmond, VirginiaAccommodations: One bedroom, four bedsRate per night: $282Age Restrictions: None If there was any doubt that the owners of this two-floor treehouse were okay with kids as guests, the twisty slide, climbing net, and trapeze make it clear. Located within walking distance of the area's popular Buttermilk Trail, it accommodates six guests, includes four bikes, and has been named one of the "Top 20 Places to Stay in Virginia."
Redwood Forest California Treehouse with Ocean Views
Aptos, California
Accodomations: 3 Bedrooms
Rate Per Night: $1,350
Age Restrictions: None
This architectural wonder of a treehouse located near California's famed Redwood Forest is the furthest thing from roughing it. It's listed under Airbnb Plus, meaning its been independently verified and is well equipped and maintained. It features a full kitchen, washer and dryer, views of the coastline, and decor straight out of a design magazine. The quiet neighborhood, ramp entrance, wide stairs and sturdy railings make it extra kid-friendly.
Treehouse Above Park City Utah
Park City, Utah
Accommodations: One bedroom, one bedRate per night: $285Age Restrictions: None Ideal for a family ski trip to Utah ⏤ it's only about 15 minutes from the ski areas ⏤ this two-level treehouse has a giant Douglas Fir running right up the gut. There's a ship's ladder to the upstairs (so kids sleep down below) and the space is equipped with a fireplace, satellite TV, and bumper pool.
Kids Over 2
Maine Tree Dwelling with Water Views and Hottub
Georgetown, Maine
Accommodations: Two bedrooms, with either two kings or two double beds
Rate Per Night: $337
Age Restrictions: None
This two-story treehouse located in coastal Maine features a full kitchen and wood-fired hot tub on a platform connected to the main house by a rope bridge. The treehouse is located on 21 acres of property, but only a 10-minute drive from town. The main house is accessible via a kid-friendly ground-level ramp, but parents should note that the top floor master bedroom requires climbing up a very steep set of ladder-like stairs, so it may be best for older kids.
Montana Treehouse Retreat
Columbia Falls, Montana
Accommodations: One bedroom, four bedsRate per night: $486Age Restrictions: No children under 2-years-old Situated outside Glacier National Park in Montana ⏤ near Flathead Lake, Whitefish, and Big Mountain ⏤ this gorgeous kid-friendly two-story rustic retreat ("We love kids," reads the listing) is built around a giant Fir tree and comes decked out with luxury amenities, not to mention children's books and toys, stair gates, and a Pack 'n Play.
Teens Only
Klickitat Treehouse in White Salmon, Washington
White Salmon, Washington
Accommodations: two bedrooms, three beds
Rate per night: $450Age Restrictions: none
This beautiful, Scandinavian-inspired treehouse is situated on 15 acres of land near White Salmon, Washington, and features floor-to-ceiling windows overlooking Mount Adams. It's thoughtfully decorated and provides one of the more comfortable treehouse experiences, with a full kitchen and indoor bathroom. It gets a teen-only rating simply because two of the three beds are situated on a loft accessible only by a steep ladder. It has no wifi and limited cell service, making it ideal for an unplugged getaway.
Bolt Farm South Carolina
Walhalla, South Carolina
Accommodations: One bedroom, two bedsRate per night: $438Age Restrictions: Teens only Another luxury treehouse for families with older kids, Bolt Farm is located in the woods of Western South Carolina near the Chattooga River, so outdoor activities abound. In addition to the main cabin, which has a king bed, fireplace, and air conditioning, there are two connected treehouse decks for lounging.
TreeHouse on Whidbey Island
Whidbey Island, Washington
Accommodations: One room, two bedsRate per night: $130Age Restrictions: Teens only Hidden an hour north of Seattle on Whidbey Island in Washington's Puget Sound, this 250-square foot octagonal house is built around a big Fir tree and stands 13-feet off the ground. It's a little more rustic with an outdoor shower house and restrictions on full cooking, but it does offer amenities like wifi, television, and electric fireplace, not to mention 360-degree views that include scenic sunsets over the Olympic Mountains.
Dreamy Tropical Hawaiin Tree House
Fern Forest, Hawaii
Accommodations: One bedroom, one bedRate per night: $300Age Restrictions: Teens only Located in a jungle ten miles from Hawaii's Volcano National Park, this off-the-grid bamboo hideaway stands 15-feet atop a "canopy of local flora" and is accessible only by ladder stairs ⏤ so, naturally, teens only. Also, while the decor says luxury, the running water is collected rain and the electricity is solar (and stored in a battery.) That said, the place is gorgeous and there's even a two-person hanging bed built underneath.
Every product on Fatherly is independently selected by our editors, writers, and experts. If you click a link on our site and buy something, we may earn an affiliate commission.