The Best Family Halloween Special On Every Streaming Service
From Netflix to Disney+ to Hulu and HBO Max, there's at least one thing the whole family can watch on pumpkin day.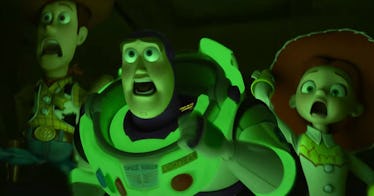 The long nights of Halloween are upon us! But if the weather isn't perfect for extended trick-or-treating with your little ghouls, there's a very real chance you're going to want to watch some spooktacular Halloween special on TV with your kids. They're too young to watch The Simpson's Treehouse of Horror specials, so what should you actually watch? And where can you stream it? Like any holiday, finding good holiday entertainment for the entire family isn't as easy as it sounds. There's a lot of garbage out there, plus, sometimes finding an old classic you loved as a kid is harder than you thought. So, to help clear the fog of Halloween specials, here's at least one great family Halloween special on each of the big streaming services. Like repentant vampires, we promise that most of these specials don't suck.
Netflix
This special isn't remotely cool, but of all the Halloween options on Netflix, it's the one that's best for very small children. (You know, the ones who can't trick-or-treat for longer than like an hour anyway.) This special leans more on the cute than the spooky, so if you've got little ones under 6 years old, this is perfect. If you want something for older kids, try Paranorman, and if you've got bigger kids, the new Krysten Ritter movie Nightbooks is solid.
Disney+
There is a whole "Halloween Collection" on Disney+, but our pick for the entire family is this 21-minute Toy Story special called Toy Story of Terror! It's just new enough to be fun, and not too scary for the little ones. There's a huge temptation to hit up super-old Halloween stuff on Disney+, but some of that is straight-up terrifying for the very young. Case-in-point, if you're looking for that old Disney version of Ichabod Crane, you'll find it Disney+ under "The Adventures of Mr. Toad and Ichabod." However, not sure we can really recommend it. It's scary AF!
HBO Max
The Haunted Smurf or The Corpse Bride
HBO Max also has a Halloween Collection, but there's a lot more adult fare here than some of the other streamers. However, for parents, they have a very hand "Not Scary At All" feature you can click on, which will take you to a 1981 special called "The Haunted Smurf." It's not the most brilliant thing ever, but it does the trick! We also love The Corpse Bride, though that may be for the 7+ crowd.
Hulu
The Addams Family (2019)
Hulu has a "Frights For the Whole Family" section, but the age levels for all of this stuff are all over the place. Our pick here is the animated reboot of The Addams Family starring Oscar Isaac. The sequel just came out this year, and the first one is fantastic. Good for young kids and older kids alike!
Apple TV+
Yes, this is a relatively new film. And yes, it's very arty and not at all a straightforward Halloween film. But we love this movie.
If you really need to watch It's the Great Pumpkin, Charlie Brown (and DO YOU?) it's also on Apple TV+ right here.
Paramount+
You might consider Paramount+ to be the streaming service you don't need, but in terms of kids' programming (from SpongeBob to Paw Patrol), it's actually super-useful. Paramount+ has a Nickelodeon HallowScream section, which, like Hulu's, is a bit all over the place, but there are more family-friendly options there.
Our pick is a new episode of the rebooted Rugrats called "The Werewolf Hunter." The new Rugrats is hilarious, underrated and great for kids of all ages.
Amazon Prime
This 1985 banger is actually a series. And it's nuts. If you've got slightly older kids and feel like watching something retro and deeply strange, you can't really go wrong here. Of all the selections on this list, this one is easily the strangest, but back in 1985, it seemed normal! A great one with bonding with your kids over the stuff you used to watch and perhaps only dimly remember. This series also leaves Amazon Prime right after Halloween is over. So, a great one to binge!
Bonus: Where is The Nightmare Before Christmas streaming?
If you're looking for the beloved Tim Burton film The Nightmare Before Christmas, the best place to find it is Disney+.