8 Best Spanish Language Kids Shows Ever Made
From 'Dora the Explorer' to 'Handy Mandy' and 'Maya & Miguel'.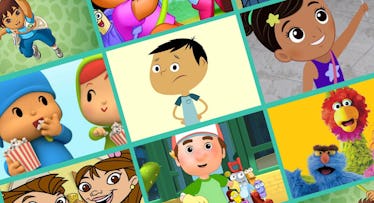 There are nearly 58 million Latinos living in the U.S., which means there are more kids growing up near or around Spanish speaking adults than at any other time in American history. And even if you're not Latino, it's just good to teach your child a second language like Spanish — by exposing them to native speakers, Spanish language TV shows, and even starting grammar lessons early. Studies show that teaching children two languages at an early age can jumpstart their learning and adopt the language effortlessly.
"Bilingualism is so good for the brain," says Susie Jaramillo, the creator of Canticos, a bilingual baby and toddler brand inspired by Latino nursery rhymes and songs from all over the Spanish-speaking world "It enables more flexible and creative thinking; the sooner you expose your child to a second language the better."
RELATED: 24 Spanish Songs To Get Your Niños Dancing In 2 Languages
Jaramillo knows what it takes to create an exceptional bilingual show. Both she and Maria Alvarez of Common Sense Media say there are five crucial factors to create a successful bilingual series for children: Endearing characters with whom children can connect; great stories for them to move through; repetition; audience engagement; and authenticity.
The last three are perhaps the most crucial, according to Jaramillo. For her shows, she makes sure to play each song twice — once in English and once in Spanish. "This way, we build on the expected, which is something toddlers love, making the second language easier to absorb," she says. The best shows do this and also make sure to engage the kids directly with some Fourth Wall-breaking jokes. "They like to feel that they are participating."
Authenticity, per Alvarez, is the key factor Common Sense Media searches when reviewing children's shows for parents. "The show should highlight the Latino culture in any form," she explains. "Highlighting, acknowledging, and accepting your culture so that a kid can know who he/she is crucial."
ALSO: The Best Magazine Subscriptions for Curious Kids
Taking these criteria into mind, best bilingual shows for children that you can watch, stream, or buy right now.
Dora The Explorer
The most recognizable bilingual children's show is also the most renowned, for good reason. Dora created a recipe that all Spanglish show creators have attempted to replicate because the formula is that groundbreaking. "Dora the Explorer is synonymous with bilingual content," says Jaramillo. "It was a breakthrough show in so many ways — the interactivity, how it incorporated culture, and the early childhood development lessons."
Dora, along with her companion Boots and her talking backpack, embarks on quests and adventures with the help of the viewer (watch out for that Swiper). "It's great for kids to see that Dora is a character who loves working on teams," says Alvarez. "She's a problem solver, curious, and a great team player and that makes her special." Dora, which debuted on Nick in 2000, has had nearly 200 episodes, two spin-offs series and is still going on quests today: an upcoming live-action film is set to be released in 2019.
For the moment, Dora can be seen on Nick Jr. or you can stream the entire series on Amazon.
Nina's World
The show follows Nina, a 6-year-old Latina girl, who lives with her parents and grandma (voiced by Rita Moreno) and the adventures she embarks with her stuffy, a star who comes to life when the pair is alone. The show celebrates Nina's multicultural community and even incorporates some American Sign Language.
Although the show is currently no longer airing new episodes, previous seasons can be found on Sprout and there's a wealth of mini-episodes on YouTube.
Plaza Sesamo
Instead of just taking American Sesame Street episodes and dubbing the episodes for Spanish speaking countries, the show's creators decided to create a fully Latino version of the series. That means Spanish-speaking actors, puppeteers, and in some cases, reimagined the characters, were used to create an all-new series of the children's classic. For example, the show's Abelardo, a 7-foot tall green parrot was inspired by Big Bird (they're actually cousins on the series), and a sign of the creators thinking of their shows for two different audiences.
"Plaza Sesamo" is another show that did a great job of staying authentic to the culture and rethinking [characters] for the Latino audience," says Jaramillo.
Clips of Sesamo are on YouTube and full episodes are on iTunes.
Oh, Noah!
PBS Kids took a creative spin on the bilingual children's show formula. Instead of the main character being fluent in Spanish, Noah is learning it as a second language after he discovers his heritage through his grandma while staying with her in a predominantly Spanish neighborhood. It's great for kids in similar situations or for those who are completely new to Spanish, as Noah goes through learning experiences with the new language and learns new vocabulary every episode.
All episodes are available on PBS Kids.
Handy Manny
Voiced by Wilmer Valderrama, Manny is a handyman who fixes things around town with his talking tools. Manny, some of his tools and a few residents of Sheetrock Hills speak Spanish. For those who don't Manny or a tool will eagerly teach them a few new words throughout the episode. "He's creative, and just a nice character," says Alvarez. "He's always clear of mind when he wants to reach a goal, and I love how he mentions every tool in both languages. It's engaging for kids."
Every episode of Handy Manny is available on Hulu.
Maya & Miguel
The show follows two pre-teen siblings, Maya and Miguel, as they go through life in their multicultural world. The show aired for five seasons and ended back in 2007. However, it was a hit in its time with viewers and parents alike, says Alvarez.
You can find clips of the series on PBS Kids for free, or you can stream episodes through Amazon. Also, there are a few DVDs sold on Amazon as well.
Pocoyo
Co-produced in English and Spanish, this preschooler series is a comedy about four-year-old Pocoyo and his animal friends. The narrator speaks to the characters and viewers while Pocoyo's curiosity leads him through a short, fun adventure. The show doesn't have much dialogue between the characters, as the narrator does the bulk of the talking, and that simplicity makes the language barrier easier for those new to Spanish. "We love the role the narrator plays in English and Spanish," says Jaramillo. "The characters are very expressive with only mere sounds."
Alvarez says the show helped her son turn the corner in terms of adopting and learning Spanish. "My son, when he was about three or five he was rejecting Spanish. One of the strategies I used was to watch this show. He loved it. I love it too. The magic of this show is how sweet the character is."
Pocoyo can be seen on the official website.
Go, Diego, Go!
Dora's cousin, Diego, was a regular on her show, but in 2005 he got his own series. Go! was similar to Dora in terms of using English and Spanish words to get through adventures, but Diego's show focused on saving exotic animals around the world. "It's not only bilingual, but it's a bicultural show," says Alvarez. "It's great to be proud of who you are and to see that he is a proud Latino is great for children. Plus, the fact he goes on these adventures with Dora as well, I think is powerful for kids."
Episodes of Diego can be seen on Nick Jr. or streamed via Amazon.
This article was originally published on