The 15 Best 'Saturday Night Live' Sketches of 2021
Here's what we laughed at the most in 2021.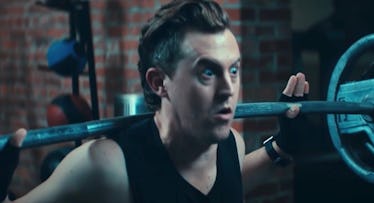 Credit: NBC
Season 47 of Saturday Night Live is almost over already, and the finale will air on December 18, 2021, hosted by the sexiest man alive, Paul Rudd. And for many fans and casual viewers, 2021 has been a kind of a comeback for the venerable NBC show, with diverse guest hosts, smart cast additions, promotions of the existing cast, cool cameos, a strong roster of musical guests, and a welcome reduction in political sketches. Part of Season 46 aired in 2021, and Season 47 closed out the year, but for the purposes of this list, we're just going to focus on Season 47.
Every week, Fatherly takes a look at the sketches we laughed at the most, or which ones made us cringe the most with recognition. But which ones were the best of the year? Here are our 15 best SNL moments of the year.
15. Dionne Warwick Talk Show It was inevitable. Ego Nwodim has been killing it for the past year or so playing Dionne Warwick as the host of her own offbeat talk show. Warwick lands all the big names, and it helps that SNL has not only a cast that can do great impressions, but also musical guests willing to play along. The November 6 outing gave us a new episode of The Dionne Warwick Talk Show with Miley Cyrus (played by Chloe Fineman), Jason Mraz (played by host Kieran Culkin), Post Malone (played by Peter Davidson), and musical guest Ed Sheeran as himself. And then Nwodim as Warwick announces, "I'm tired of interviewing people who are not icons. Please welcome… me!" And out steps the real Warwick, now 80 years old. The ladies, dressed in nearly identical ensembles hug. Settling into a chair, the real Warwick says, "I'm so glad for you that I'm here." After a couple of minutes of cute banter, Nwodim and Warwick team up to croon a bit of "What the World Needs Now Is Love." Come on, you had the same stupid smile we had on our face the whole time, right? Right.
14. MellenJason Sudeikis, red hot thanks to Ted Lasso, returned to SNL on October 23 for what amounted to a pretty funny episode. Perhaps the best of his sketches was the pre-recorded Ellen DeGeneres spoof, Mellen. As a voiceover explains, "Mellen is the male Ellen. All the daytime fun energy of Ellen with a hard masculine edge." Cue amusing bits with Mellen nut-tapping guys, engaging in awkward male dancing, vaxxing Kyrie Irving as a Sneak-up Surprise, and welcoming Louis C.K. to the show. The best part of the sketch is its brevity. It runs 3 minutes and 20 seconds, long enough to sustain the joke, not so long as to wear it out.
13. Cruz Street Cold OpenSNL's cold open for its November 13 show hosted by Jonathan Majors kicked off in acerbic style with some NewsMax Kids programming. After a tease for White Power Rangers, we slide straight into Cruz Street, a parody of Sesame Street. Senator Ted Cruz (Aidy Bryant) introduces the program and himself (as "the last one invited to Thanksgiving"). He's stayed silent while Sesame Street spent 50 years teaching "our children dangerous ideas like numbers and kindness," but when Big Bird told children to get vaccinated, he said, "Enough!" and created his own show, Cruz Street, a gated community. We meet some residents including a gun-toting Marjorie Taylor Green (Cecily Strong, spot-on), "resident medical expert" Joe Rogan (Pete Davidson, and yeah, he's too tall and thin, but still pretty funny, as he can "S" his own "D," LOL), Bert and Ernie as "out and proud" Proud Boys (Alex Moffat and Mikey Day), and Oscar the Slouch (Chris Redd), who Cruz insists "who's been trained by the Democrats to suck off the teat of the government." Topical, timely, silly, and making good use of most of the core cast, it's a terrific cold open.
12. Canceling Cable
Another winning sketch from the Culkin episode, this one finds Culkin portraying Brad Herman, a guy trying to cancel his cable service with Spectrum. The company's representative offers additional services (a landline!), asks why Brad is cutting the cord, followed by a couple of completely inappropriate questions, then gives him an indecipherable code before transferring the poor guy to a cancellation agent. Next, he talks to Tanya, who asks for a different, impossible code, then goes to plan B, a security question ("What city did your mom lose her virginity in?"). Turns out Tanya doesn't handle cancellations. And it gets worse from there: an uber-emotional agent, a landline installer with an impenetrable accent, a customer service trainee, etc., and, best of all, Spectrum itself, an all-powerful floating head (Bowen Yang, bringing the funny). Culkin does a great slow burn and there's no one reading this article that won't relate to pretty much every second of the sketch.
11. Goober the Clown on Weekend Update
Colin Jost and Michael Che have the "Weekend Update" segment down pat. There are timely, caustic spins on real news that generate big laughs, occasional groans, and some OMG, did-the-actually-go-there gasps. Also, and as always, "Weekend Update" gives screen time to a guest commentator of some kind who shakes things up a bit and often interacts with the anchors. We're thinking Father Guido Sarducci, Roseanne Roseannadanna, Opera Man, Stefon, Drunk Uncle, etc. Well, SNL went next level on November 6, when Cecily Strong appeared as Goober the Clown, who addresses the Supreme Court hearing arguments about a restrictive new Texas abortion law. "I had an abortion the day before my 23rd birthday, but it's a rough subject, so we're going to do fun clown stuff to make it more palatable," Strong/Goober says as she spins her oversized bowtie. Goober details her abortion, her interactions with others who've made the choice. Jost eventually says, "You don't have to do this, Cecily." Note that he calls her Cecily. And it only gets more personal. This is genuine, not to mention genuinely painful and genuinely funny, and genuinely powerful. Kudos to Strong, as well as to Lorne Michaels, Jost, and Che for supporting her, and to Strong's co-writers for crafting an unforgettable three minutes of television.
10. Celeb School Game Show
Rami Malek hosted SNL on October 16 and brought a likable charm to the proceedings. The whole show was pretty entertaining, but two sketches in particular hit proved memorable. The first is Celebrity Students, a game show hosted by Bert Simpson (Kenan Thompson), in which two average folks count on a bunch of celebs to help them win $10,000. And so we get Malek as Pete Davidson, Pete Davidson as Rami Malek, Chloe Fineman as Jennifer Coolidge, Bowen Yang as George Takei, Mikey Day as John Oliver, Melissa Villasenor as Kristen Wiig, Chris Redd as Lil Wayne, and James Austin Johnson as Adam Driver. The sketch itself is silly, and the impersonations are easy pickings, but you can't help but at how well Fineman, Villasenor, and Johnson riff on Coolidge, Wiig, and Driver. And, best of all, it's a hoot to watch Malek and Davidson, sitting side by side, play each other.
9. Mattress Store
This is the single best sketch from the Malek episode. In it, Richard (Malek) and (Denise) Aidy Bryant visit Sleepy Town USA to buy a mattress, and they're torn between two options, while Bowen Yang tries to help them. Richard and Denise bounce back and forth between the two options, role-playing what happens in bed – arguments, lack of sex, a home invasion – and then quickly commenting on the prospective beds' comfort levels. Bryant gets the best line: "Do me like I'm in adult detention!" The whole sketch clocks in at just under five minutes, so the idea is not belabored. Malek and Bryan bring out the best in each other, and Bryant nearly cracks, which makes it all even funnier. And Bowen scores points with his priceless, horrified reactions to Malek and Bryant's hijinks.
8. School Board Meeting
SNL launched its 47th on October 3 with Owen Wilson as the guest host. The episode was breezy and light, right from the monologue. The sketch of the night award goes to District 7 School Board Meeting, in which board members Ego Nwodim and Alex Moffat invite members of the public to comment on the latest COVID protocols being implemented in their district's schools. That, of course, is a recipe for disaster. One lady merely rants and doesn't even live in town. Someone else whines about critical race theory ("What is it? And why am I mad about it?"). Then a teacher at the school, Wilson's Mr. Dot, asks about a memo ordering staff to segregate students by six feet apart, only to realize he's misread it. A dreadlocked Bowen Yang only gets in three words – "Barack Hussein Obama" – before he's shut down. Pete Davidson pops up as Dog the Bounty Hunter, asking if anyone has seen Brian Laundrie. A couple of the people return to the microphone for seconds, doubling the chuckles, and Nwodim and Moffat sell their characters' growing frustration perfectly.
7. New Military Weapon
"Imagine a soldier with undying loyalty, built-in night vision, super-sonic hearing and the ability to track an enemy scent with 15,000 times the accuracy of a normal human nose," touts a Pentagon major to the powers that be (Cecily Strong and James Austin Johnson). Then, the major (played by Legend of the Ten Rings star Simu Liu on SNL's November 20 show) pulls back the curtain (literally) on his team's creation… Dog Head Man. Yes, it's a man with a golden retriever's head. And this dog can assemble a tech 9 carbine combat rifle faster than any human soldier, deftly wield a knife, and somehow defuse a bomb. This is a perfect storm of a sketch: witty writing, a hysterical visual (the dog is an actual, adorable golden retriever, with human hands and arms hidden beneath it, gesticulating), and a cast (including Mikey Day as a scientist stationed next to Dog Head Man) that must improvise in reaction to the real dog's behavior. Strong's voice cracks several times, Day smiles as he struggles to keep the dog facing forward, and you'll be laughing right along with both of them. SNL aficionados, for better or for worse, will recall a very similar and equally humorous sketch from 2018, in which Mikey Day and guest host Sam Rockwell played scientists who created a Dog Head Man.
6. Men's Underwear Commerical
Some guys have trouble with underwear. If you have ever thrown away a pair of underwear for a totally random reason, this sketch has seen you. We're not saying we actually want the fake product advertised in this commercial, but maybe? One of the best and most underrated SNL commercials in years.
5. Three Sad Virgins
Another highlight from the Jonathan Majors episode is this prerecorded nugget. Pete Davidson wants to collaborate with PDD on a music video and, even better, he wants them to appear in it. Cut to a rap song and video in which Davidson comments on his growing fame and reputation with the ladies, while the PDD boys are cast as three sad virgins whom he mocks and humiliates. Every so often, the boys stop the proceedings to protest (while hilariously still kissing Davidson's butt), only to be embarrassed even more. The biggest insult? Taylor Swift, the night's musical guest, gets in on the torture and hams it up to great effect.
4. What's Up with That?
Another highlight of the Sudeikis episode is the latest installment (after about 9 years!) of Kenan Thompson's "What's Up with That?" sketch. As usual, TV host Diondre Cole doesn't seem to give a damn about his stellar lineup of guests, which on this night – a special Halloween edition — includes Dune star Oscar Isaac, supermodel Emily Ratajkowski, and Succession's Nicholas Braun, whom Diondre insists is the perennially-overlooked "Lindsey Buckingham" in the former Fleetwood Mac musician's best costume yet. Thompson does his familiar shtick, bouncing up to sing and dance, accompanied by background singers/dancers. Here, he's also joined by a saxophonist (Fred Armisen, playing Giuseppe, but channeling Kenny G) and Sudeikis reprising his popular recurring character, Vance, he of the red tracksuit, goofy grin and iconic Running Man dance. Diondre starts to interview his guests, well, at least Isaac, but can't resist the urge to sing and dance… joined by Giuseppe and Vance, the background dancers, plus – randomly, the HeeBee GeeBees (Strong, Nwodim and Yang as zombie disco singers), Steve Bartman (Kyle Mooney), and Rev. Al Sharpton (Redd). Of course, by the time the song ends, Diondre announces, "We outta time!" It's a silly sketch, to be sure, but it's Thompson's energy (love when he sticks his face in the camera), the star cameos, and, Sudeikis's sidesplitting gyrations, that put it over the top.
3. Ladies Night Song
This may sound crazy, and I'm slapping myself for saying it, but the Kim Kardashian West-hosted episode of SNL, which aired on October 9, ranks as the best episode of the season thus far. Kardashian West herself is a touch stiff, but totally game, as she tears into spoofing herself, her estranged husband, her family famous, etc. The show's writers handed her the season's funniest monologue by far, and she kills it. Our favorite line: she is "so much more than that reference photo my sisters show their plastic surgeon." She plays Kourtney in one sketch, "The People's Kourt," that also features mom Kris and sister Khloe. "The Dream Guy" puts a sly spin on "The Bachelorette" and features cameos from Chris Rock, John Cena, Chace Crawford, Jessie Williams, Blake Griffin (sister Kendall's ex!), former Bachelorette contestant Tyler Cameron, and Amy Schumer. Best of all, though, is the prerecorded sketch, "Ladies Night Song," with Kardashian West, Nwodim, Strong and Punkie Johnson as "grown-ass women" leaving their families at home to relive the clubbing exploits of their 20s. And it all goes wrong. The music's too loud, their feet hurt, food no longer agrees with them, and Kardashian's character keeps falling asleep, etc. The song is catchy, the visuals are amusing, and Kardashian is at her most relaxed.
2. TikTok
The most accurate TikTok send-up ever was also one that featured a dad trying to get his kid to take out the trash. There are almost too many funny ideas in this sketch to list, but Billie Eilish's dancing nurse and the Homer Simpson ASMR take the cake.
1. Man Park
One of the greatest SNL sketches this year fully illustrated just how hard it is for men to connect with…well…their partners. We not-so-secretly wish the Man Park was real.
Saturday Night Live airs on NBC.