6 Unexpected Parenting Lessons From 'Ghostbusters'
Your kid is like Slimer. Here's how to deal.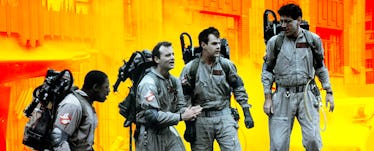 Sony Pictures Home Entertainment
Whether it's Halloween or just a Tuesday night in July, there's never a bad time to watch one of the greatest movies of all time: Ghostbusters. In 1984, this sci-fi-comedy changed not only the way we thought about films, but also the way we thought about making jokes about slime. Ghostbusters made us feel funky, taught us that bustin' can make you feel good, and most of all, that nobody ever made them like this.
But, unexpectedly, the original Ivan Reitman-directed 1984 film — starring Bill Murray, Sigourney Weaver, Harold Ramis, Ernie Hudson, Rick Moranis, Dan Ackroyd, and Annie Potts — also imparted some sneaky life-lessons, that, when looked at from a certain way, are actually parenting lessons in disguise. Yes, Ghostbusters 2 famously had a plotline involving a baby in it, but you actually don't even need to leave the confines of the first movie to find the best-hidden parenting lessons in Ghostbusters.
Here are six lessons from Ghostbusters that will help every parent have the tools and the talent to deal with all types of ghoulish personalities your children might take on. In Ghostbusters you choose the form of the destroyer, but parents know that we've already chosen the form of our destroyer: it's our kids.
Onto the list!
6. "Slow down. Chew your food."
5. "I've worked in the private sector — they expect results."
4. "If there's a steady paycheck, I'll believe anything you say."
fun
3. "What about the Twinkie?"
2. "Don't cross the streams!"
Ghostbusters
1. "When somebody asks you if you are a god, you say YES!"
Here's where you can stream all versions of Ghostbusters.
This article was originally published on