The Best Online Games For Toddlers and Young Children to Play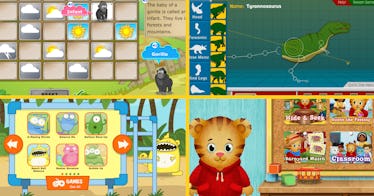 It's hard to find age-appropriate games for toddlers and young children online. But there are great ones out there — games that teach, inspire, and entertain — hiding in almost plain site. As we're all sitting at home right now, social distancing and trying to maintain our sanity and stress, we wanted to highlight a few of our favorites. These counting games, alphabet games, matching games, construction games, and shape games are fun, easy for toddlers to pick up on, and, maybe, hopefully, will distract your kids for 20 minutes so you can do whatever else it is you need to do. Take a look.
8 Great Online Games for Toddlers and Young Children
4+Who doesn't like pizza? This simple game for pre-k students ask kids count the number of pizza toppings and make pizzas for customers. Fun noises, bells, and silly toppings like bandaids and mustaches make the game a little fantastical, but that's alright, too.
4+Space, a character named Officer Ice Cream, and an x-ray camera make this simple alphabet game where kids use an x-ray camera to look at letters makes it a perfect game for kids who are just trying to improve their letter-recognition skills.
4+Matching games are super fun for young kids and Shape Shadow Matching, which uses 8 cards face-down, requires kids to use their memory to get a match of two shapes. It's cute, easy, fun, and not super involved, and it stretches those brain muscles.
4+The game is simple enough: kids need to find the babies of the parent animals, and follow the clues (squares, suns, and clouds provide answers) to find the babies and then reconnect them to their parents. It's cute and easy!
4+This is a really, really simple game for young kids. Gamers get to make mosaics into the shapes outlined using geometric, jewel-toned shapes. It's super easy, gets kids used to handling shapes and trying to fit them into neat blocks.
5+Good for kids aged kindergarten and up, Construct-A-Saurus helps kids build a Tyrannosaurus Rex limb by limb, showing stats for strength, speed, balance, and more.
3+Monkey Preschool Fix-It is a game where kids help a monkey do construction jobs — like hammering colored nails or cutting number boards for a preschool classroom. The game is on an app that you have to download and features lots of different tasks and games-within-the-game that cycle on and on, so parents will have to check in with their kids to make sure they aren't stuck on the game for too long. It's simple and fun.
4+Players of Match the Rhyming Words do exactly what the game's title suggests, more or less. Kids look at images of common rhyming words, like buses and socks and hats, and a narrator reads the word aloud when they put their cursor over the image. The kids then have to match the all the rhyming words on the page until they've matched them all correctly.
And Two Great Websites Full of Games For Toddlers and Young Children
2+Fun Brain Jr. has dozens and dozens of games for kids and a great system for age appropriateness Kids as young as 2 and choose to play a game, toggle in their age, gender, and if they are playing with a parent and are able to let loose on games like Balloon Blow-Up, Beaker Bonanza, Mushroom Bounce, A-Mazing Words, Rhyme Time, Water Slide, and more. The games on Fun Brain Jr. are appropriate for kids 2-6, but might need some help from mom and dad to do.
4+There are twenty different Daniel Tiger games for young kids and toddlers on PBS Kids. Mr. Rogers' fictional protege is featured in games titled: Coloring, Making Cards, Doctor Daniel, Bath Time and Dress Up Games, among others. Check out the games here.
This article was originally published on