18 'Nightmare Before Christmas' Quotes To Raise Your Holiday Spirits
The wisdom of Jack Skellington knows no season.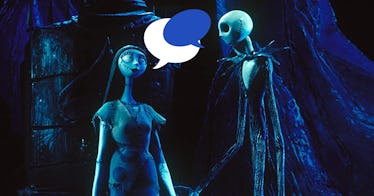 All images Disney
While there's debate over whether The Nightmare Before Christmas should be classified as a Christmas movie or Halloween movie, fans of the Tim Burton classic do seem to all agree that the animated film is full of quote-worthy one-liners, some of which have inspired the most cultish of followers to get lines tattooed on their own bodies.
But even if you aren't ready to permanently mark your skin with the catchy phrases said by the residents of Halloweentown, you may boast about knowing every line and lyric from the movie when it comes time to watch it with the family every year during the holidays. But if it's been a while since you've followed the antics of Jack Skellington, Sally, and Zero the ghost dog, you might need a refresher on the best one-liners. Here are the best Nightmare Before Christmas lines we found to get you into the holiday spirit.
18. "For it is plain as anyone can see, we're simply meant to be." – Jack and Sally
17. "That's right. I AM THE PUMPKIN KING!"- Jack Skellington
16. "Kidnap the Sandy Claws, beat him with a stick. Lock him up for fifty years, see what makes him tick!" – Lock, Shock, and Barrel
15. "There's children throwing snowballs, instead of throwing heads, they're busy building toys and absolutely no one's dead." – Jack Skellington
14. "Did anyone think to dredge the lake?"- The Mayor
13. "Nice work, bone daddy." – Sax Player
12. "You're jokin', you're jokin'! / I can't believe my ears! / Would someone shut this fella up? / I'm drownin' in my tears!" – Oogie Boogie Man
11. "There's only 365 days left until next Halloween!" "364!" – Mayor and Wolfman
10. "I sense there's something in the wind, that feels like tragedy's at hand. And though I'd like to stand by him, can't shake this feeling that we have. The worst is just around the bend, and does he notice my feelings for him? And will he see how much he means to me? I think it's not to be." – Sally
9. "Life's no fun without a good scare." — Child Trio
8. Oh, there's an empty place in my bones, that calls out for something unknown." — Jack Skellington
7. "Since I am dead I can take off my head to recite Shakespearean quotations." — Jack Skellington
6. "I tromped through the pumpkin patch."
5. "This is Halloween, everybody make a scene." — Ghosts
4. "I sense there's something in the wind. That feels like tragedy's at hand." — Sally
3. "Say it once, say it twice, take a chance and roll the dice. Ride with the moon in the dead of night." — Witches
2."That's twice this month you've slipped deadly nightshade into my tea and run off." — Dr. Finkelstein
1. "Come with us and you will see, this, our town of Halloween" — Shadows
This article was originally published on