From 'Spongebob' to 'Avatar': The 10 Best Kid's Shows From the 2000's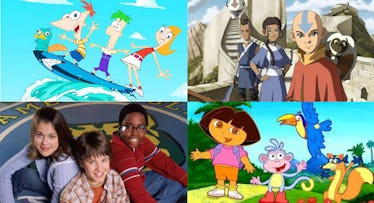 If there's one thing the Internet loves, it's nostalgia. And while the 90's may be getting all the love and attention lately, soon that time will end and the nostalgia cycle will move to the early 2000's, which means a clutch of innocent pre-social media children's shows will suddenly seem quaint. You might not think the 2000's could contend with Rocko's Modern Life, and Hey Arnold, but, fortunately, the early 2000's (can you still call it the naughties?) had no shortage of great shows that kids today will still love today. From Bob the Builder to Lizzie McGuire, here 10 shows from the early 2000's that still hold up.
Here are some quick ground rules before we begin: To qualify for the list, a show had to air primarily in the thick of the naughties, which means from the years 2000-2010. But, we're also counting shows that debuted before 2000, like Powerpuff Girls, or kept airing after 2010, like Phineas and Ferb. The point is, the majority of the show's run needs to have been in that decade. Now on to the list.
Powerpuff Girls (1998-2005)
Long before the age of the Marvel Cinematic Universe, these three crime-fighting sisters dedicated their lives to super-heroics after accidentally being cooked up in a lab by Professor Utonium. Along with Blossom, Bubbles, and Buttercup, the city of Townsville was packed with goofy side characters, menacing villains, and girl power. Though some adults might find the squeaky voices of the Powerpuff Girls to be a little much at first, their pluckiness and consistent heroism is infectious. Plus, chances are you have at least one adult co-worker who still loves them. Classic Powerpuff Girls is on Hulu, though you can can buy individual seasons on Amazon Prime.
Bob the Builder (1998-2016)
This is not a show parents will enjoy but kids will absolutely love it. Why? Because just like trains and dinosaurs, kids love people and machines that build stuff. The show taught kids the importance of teamwork and conflict resolution while building a ton of cool shit. Can we watch it? Yes, we can. The contemporary version of Bob the Builder is on YouTube right now, but the classic version is mostly on Hulu.
Spongebob Squarepants (1999-Present)
There's never been a kid's show quite like Spongebob. That might sound a tad hyperbolic but, in this case, it's accurate because no other show has managed to strike a balance between appealing to kids and parents so effectively. It's so iconic, it's still on the air nearly two decades after its debut but most agree that the "Golden Age" of the show was in the early 2000's. Luckily, if you've got Amazon Prime, a good chunk of 2000's Spongebob is streaming there for free.
Dora the Explorer (2000-2014)
This massively popular show followed a simple formula – Dora needs to go to a place. Dora is going to a place. Dora is at the place – to perfection that makes it endlessly watchable for kids. Plus, it was a show that encouraged kids to engage with other cultures and while it's unlikely anyone became bilingual by watching Dora, it can serve as a great introduction to Spanish for young kids. Dora the Explorer is streaming pretty much in its entirety on Amazon Prime.
Lizzie McGuire (2001-2004)
Lizzie McGuire has held up better than most live-action Disney shows because it always felt grounded in reality, even with her subconscious manifesting itself as a sassy cartoon. The show avoided overly wacky antics and instead focused on what it's really like to be a normal kid in junior high, which features a lot of growth but even more embarrassment. Lizzie McQuire is available to buy on Amazon.
Kim Possible (2002-2007)
Forget Hannah Montana, this was the double-life show that was actually worth watching. By day, Kim was just an average kid trying to get through high school but when duty called, she was an ass-kicking, globe-trotting spy who protected the world from super evil geniuses on a weekly basis. What's not to love? Kim Possible is available to buy on Amazon.
Fairly OddParents (2002-2017)
Fairly OddParents always played second banana to Spongebob but that didn't mean it wasn't a great show in its own right, especially when it came to pure zaniness. Kids shows are often goofy but few have ever been goofy quite like Fairly Odd Parents, as the writers and animators would bend over backward to make the most amount of jokes possible. Fairly OddParents is streaming to rent and own on Amazon and VUDU.
Ned's Declassified School Survival Guide (2004-2008)
This goofy, light-hearted show about three middle school friends was often overlooked in favor of more popular (but ultimately lower quality) kid's shows. What makes Ned's Declassified stand out? It took childhood friendships seriously. Sure, there were plenty of jokes about puberty and zany schemes, but the foundational bond between Ned, the lovable everyman, Mose, the tough as nails tomboy, and Cookie, the mad scientist in the making, were never a joke. The series is available to buy on Amazon.
Avatar: The Last Airbender (2005-2008)
Believed by many to be the best kid's show of all time, Avatar tells the thrilling, hilarious, and moving story of Aang, a young boy who was forced to embrace his destiny with the help of his friends. The show was always incredibly smart and endlessly entertaining but fair warning to parents, the show features some heavy themes and violence that might be too intense for kids. Also, word of warning, if your kids love the series, try to keep them away from the live-action 2010 movie , The Last Airbender. It was directed by Mr. Sixth Sense himself, M. Night Shyamalan. But, it wasn't during one of his good periods. However, the 2012-2014 Avatar sequel series, The Legend of Korra, is pretty solid, but also probably best for older kids. Avatar: The Last Airbender is available to own on multiple platforms including iTunes, Amazon and VUDU.
Phineas and Ferb (2007-2012)
Another cartoon that was far too clever than it had any right to be, Phineas and Ferb followed a solid formula that always resulted in big laughs, badass inventions, and a few fantastic songs. While the titular brothers are an iconic duo, the real secret to the show's success was Dr. Doofenshmirtz, the evil-but-lovable scientist who is constantly at battle with Perry the Platypus. Phineas and Ferb is available to buy on Amazon.
Obviously, there's more great kid's shows from the 2000's, but if you start with these can't go wrong. Naughties toons forever!
This article was originally published on