5 Best Kid's Movies About America to Stream on the Fourth of July
Teach your kid to love their country through the power of movies.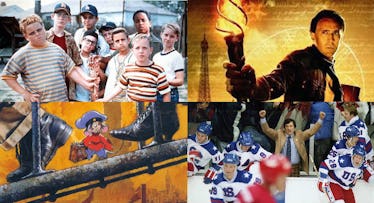 Tomorrow is the Fourth of July which means pool parties, BBQs, and, of course, a shitload of fireworks. But once the fireworks are over and the last hot dog has been eaten, you may find yourself in a prime position to sit down with your family and show your kid a classic All-American film for the first time. But knowing what movies are available to stream and where you can stream them is damn near impossible. Fortunately, Fatherly has you covered. Here are five great kids movies about America that you can stream with your kid from sea to shining sea.
National Treasure
National Treasure may not give a completely accurate account of colonial history — despite what Nic Cage wants you to believe, there isn't a treasure map on the back of the Declaration of Independence – but it's definitely among the most fun. National Treasure adds a bit of light-hearted mythology to the Founding Fathers while also having great action, thrilling twists, and possibly the last great (or at least not aggressively terrible) Cage performance we'll ever see.
National Treasure is streaming on Netflix.
An American Tail
There is nothing more patriotic than someone heading to the United States with the hope of making the American Dream their reality. So it's an absolute thrill getting to watch Fivel, an adorable mouse with a heart of gold, and his family escape Ukraine and head to America. Along the way, Fivel ends up separated from his family but as he attempts to reunite with his family, he discovers the freedom and opportunity that make America such a wonderful place.
An American Tail is streaming on Netflix.
Miracle
The Miracle on Ice at the 1980 Winter Olympics isn't just a great moment in American sports. It's the greatest moment in the history of American sports. And Miracle does a phenomenal job retelling the story of this legendary game, where a group of scrappy underdogs came together under a tough-as-nails coach and pulled off arguably the biggest upset of all-time. Even if your kid isn't into sports, they are pretty much guaranteed to love this movie. It's just that good.
Miracle is streaming on Netflix.
The Sandlot
This movie may not be as obviously "American" as some of the other movies on this list but, in a way, it's the most American of them all because the entire movie serves as a celebration of the American childhood. No matter how many times you've seen it, it never gets old watching Benny, Smalls, and the rest of the gang go to the pool, tell scary stories during a sleepover, and lose their damn minds as they watch an epic fireworks display while they are playing America's pastime on America's birthday.
The Sandlot is streaming on HBO Go and HBO Now.
An Extremely Goofy Movie
There is perhaps no genre of film that is more quintessentially American than college movies. But while your kid probably is a little too young to be checking out Animal House or Old School, they can enjoy the kid-friendly version with An Extremely Goofy Movie. It's a mostly forgotten but surprisingly great movie that features tons of laugh-out-loud moments and all of the classic college tropes we've all come to know and love, including douchey frat bros and epic parties. Goofy is a character every kid loves but dads will love this movie too because it is not-so-secretly about Goofy's struggle to let his son Max go off and start his own life, something every father can relate to.
An Extremely Goofy Movie is streaming on Netflix.
This article was originally published on