The 15 Best Kids' Movies Coming Out in 2020
Minions! Scooby! Witches!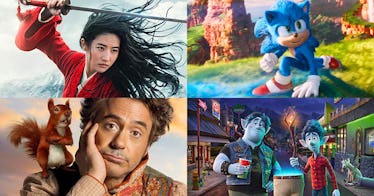 A new decade is rapidly approaching and that means a whole new slate of movies that your kid will love and make you rewatch millions of times. Thankfully, 2020 is looking to be a strong year for kid's movies, with Disney, Pixar, and Dreamworks all starting off the decade with some highly-anticipated titles. With that in mind, here are the 15 best kid's movies that are coming to theaters next year.
Dolittle (January 17)
After more than a decade, Robert Downey Jr. finally exited the Marvel Cinematic Universe this year with Iron Man's heroic sacrifice in Endgame. His first post MCU role will be Doctor Dolittle, a veterinarian who has the ability to talk to animals.
Sonic the Hedgehog (February 14)
When the first trailer for Sonic dropped, the internet went nuts mocking Sonic's bizarre design. Thankfully, he was redesigned to look more like the original character and with a stacked class that includes Ben Schwartz, Jim Carrey, and James Marsden, hopefully, Sonic can be the rare video game movie that doesn't suck.
Onward (March 6)
After focusing more on sequels (and fourquels) over the last few years, Pixar is returning to original stories in 2020. First up is Onward, which takes place in a world filled with elves, mermaids, centaurs, and other mythical creatures. However, the fantasy world has been overtaken by suburban boredom and so two troll brothers (voiced by Chris Pratt and Tom Holland) head on a quest to discover if there's any magic left in the world.
Mulan (March 27)
The newest live-action Disney remake looks like it could be the best. The basic story is the same – Mulan pretends to be s a man to fight in place of her father and prove herself – but the titular warrior in disguise is leaving behind catchy songs and wise-cracking sidekicks in favor of a more straightforward action movie.
Peter Rabbit 2: The Runaway (April 3)
The rascally rabbit is back for another round of mischief thanks to the first movie making a cool $350 million at the box office back in 2018. This time, Peter (voiced by James Corden) runs away from home and ends up meeting another rabbit who knew Peter's dad.
Trolls World Tour (April 17)
Set four years after the first Trolls movie, Poppy (Anna Kendrick) and Branch (Justin Timberlake) discover that there are five other trolls tribes and each group is dedicated to a different style of music: pop, funk, classical, techno, country, and rock. However, things take a dark turn when the queen of the rock tribe declares her plan to destroy all other types of music.
Scoob! (May 15)
We all love a good origin story and now, we're finally going to learn how Mystery Inc. was formed, as Scoob! will feature flashbacks that show Scooby Doo, Shaggy, Velma, Daphne, and Fred meeting in their youth and deciding to team up and become amateur sleuths. There's also a present day storyline that involves Shaggy and Scooby getting abducted.
The Spongebob Movie: Sponge on the Run (May 22)
Spongebob has dominated kid's entertainment for over two decades and he's coming back for another theatrical release. This time, Spongebob and Patrick head to the Lost City of Atlantis after Spongebob's pet snail Gary is "snailnapped" by Poseidon. We can't wait to get a bit more nautical nonsense in our lives.
Artemis Fowl (May 29)
Disney is hoping it has the next Harry Potter level movie franchise on its hands with Artemis Fowl. The film is based off of a series of children's books by Irish author Eoin Colfer which tell the story of a 12-year-old criminal genius. The movie is apparently only going to cover the events of the first book, meaning that this could just be the beginning of this beloved anti-hero's journey onto the silver screen.
Soul (June 19)
Pixar's second film of the year features a jazz musician who accidentally has his soul separated from his body. His soul is sent to the "You Seminar", a place where souls are taught to develop their passions before they are sent to their respective bodies. This sounds somewhat similar to Inside Out in terms of exploring humanity, so you may want to bring some tissues.
Minions 2: The Rise of Gru (July 3)
A sequel to a spin-off? Why not! The first Minions movie ended with the three titular henchman meeting Gru for the first time and so the sequel will focus on their early days with their dastardly leader (remember, this is all pre-Despicable Me). But really, the plot is of secondary importance here, as we are all just looking forward to seeing Kevin, Stuart, and Bob get into all sorts of wacky hi-jinks.
Jungle Cruise (July 24)
Movies based on Disneyland rides are hit (Pirates of the Caribbean) and miss (Haunted Mansion) but Jungle Cruise looks promising thanks to its fantastic cast, which includes Dwayne "The Rock" Johnson and Emily Blunt.
The Witches (October 9)
Based on the Roald Dahl novel, The Witches tells the story of a young boy who accidentally ends up at the annual gathering of witches in England and is then turned into a mouse by the Grand High Witch (played by Anne Hathaway). With Robert Zemeckis directing, this will hopefully bring some of Dahl's patented grim playfulness to the screen.
Raya and the Last Dragon (November 25)
Is there anything better than a movie title that doubles as a plot summary? As you could probably guess, Raya and the Last Dragon is about a warrior named Raya (voiced by Cassie Steele) who is in search of the last dragon in the world. The movie sounds dope as hell and was written by Adele Lim, who wrote the screenplay for Crazy Rich Asians, and co-directed by Paul Briggs, who helped develop a lot of the recent Disney animated hits, including Frozen and Zootopia.
The Croods 2 (December 23)
After surviving a string of natural disasters, the iconic cave family is returning to theaters for another dash of fun. There's currently little information in terms of plot details but the entire cast is expected to return, including Nicholas Cage, Ryan Reynolds, and Emma Stone.
This article was originally published on