Best In Show: 'Paw Patrol' or 'Puppy Dog Pals'?
From animation and plot to music and merchandise, we pit TV's two most popular puppy cartoons against each other.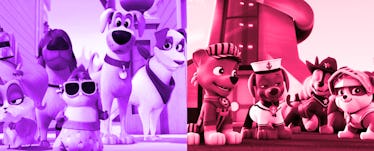 Disney/Nick Jr.
The following story was submitted by a Fatherly reader. Opinions expressed in the story do not reflect the opinions of Fatherly as a publication. The fact that we're printing the story does, however, reflect a belief that it is an interesting and worthwhile read.
Few things go together better than puppies and small children. They make an adorable pair. Perhaps it explains why both Nickelodeon Jr. and Disney Jr. have successful cartoons geared toward toddlers that feature puppies. Puppy Dog Pals and Paw Patrol are the go-to escape when our toddler calls it a day, so I've had the opportunity to watch every episode from each series numerous times. So many times. As such, I've had plenty of time to examine the different aspects of both cartoons ⏤ from the animation and character development to the plot, music, and even merchandise. And what I've learned is that while all dogs may go to heaven, not all dog cartoons are created equal. But which one is best in show? Here's how they stack up against each other.
Animation
Both shows are a testament to just how far animation has come since the glory days of Hanna-Barbera. Puppy Dog Pals showcases an impressive level of detail to the point where individual strands of dog hair are distinguishable. If Bingo and Rolly ever contract fleas, they will certainly be visible. Unfortunately, some elements of the show's aesthetic are taken to an extreme, and it proves distracting. Their owner's body proportions are preposterously askew, even in comparison to other human characters in the show. While he undoubtedly works very hard to maintain his four-inch waistline, the guy needs to make sure he doesn't get up from the Thanksgiving table before asking for seconds.
Paw Patrol, on the other hand, offers a flatter aesthetic but one that is still high quality. The clean lines, subtle shading, and the primary color palette is more pleasing to the eye than the amazing technicolor retinal assault that Pals opts for. Visually stimulating is preferable to stimulus overload.
Edge: Paw Patrol
Characters
With six dogs each showcasing different gadgets and vehicles, Paw Patrol suffers from the same bloat that plagues Avengers: Civil War. And while the canine cast exhibits a handful of doggie traits, the show could plug and play with any number of different animals and still function well. Armadillo Alliance doesn't have the same ring, but the transition could work should the next round of contract negations with the dogs hold up production.
Bingo and Rolly give Puppy Dog Pals the most convincing dog performances since Dug in Up. The twin Pugs are central in every episode and exhibit all of the charm and foibles one would expect from that particular breed of puppy. They also have more interesting and subtly humorous dialogue, which adds a level of entertainment for parents in need of levity.
Edge: Puppy Dog Pals
Plot
Every single episode of both shows involves dogs lending their assistance to solve a problem for someone else. They do so with a cheerful spirit, which is something both toddlers and their parents do well to emulate. Where Pals excels is that the adventures of Bingo and Rolly take place on all corners of the globe. They don't always travel far and wide, but when they hit the road, they are able to teach lessons about different cultures and geographic traits. Added educational value is always a plus.
Edge: Puppy Dog Pals
Music
Either soundtrack would make the perfect holiday gift for your mortal enemy. Both shows offer music that is formulaic, electronic, and repetitive. It's really a shame because there was a day and age when cartoons laid the groundwork for classical music appreciation. Loony Toons made regular use of classical pieces, and Disney commissioned the Philadelphia Orchestra to play pieces by Tchaikovsky, Beethoven, Schubert, and others in Fantasia.
The flavor of doggy techno employed by Puppy Dog Pals is particularly offensive. A heavy utilization of synthesized bark samples creates an egregious earworm that masquerades as a theme song, and it should have never seen the light of day. Thirty seconds of a dissonant dog howling to start each episode would be considered an improvement.
Edge: Paw Patrol as the lesser of two evils.
Merchandise
Paw Patrol merch is ubiquitous, though slightly overpriced. Better deals on items from the franchise can be had in Beijing's Pearl Market, which is an indicator of just how much product the franchise produces and moves. Should your toddler prefer to rep Puppy Dog Pals, a handful of toys, books, and clothing items is available. Which means it's going to take a full piggy bank to collect all of the characters and vehicles from Paw Patrol, whereas two plush pugs aren't going to break the budget.
Edge: Puppy Dog Pals, because your kid will have far fewer options to beg for while riding down the isles of Target.
Best In Show: Puppy Dog Pals
Puppy Dog Pals wins by a nose, taking three of the five rounds on my scorecard. It's the cartoon of the two that offers parents some entertaining nuggets but isn't too annoying when it comes to the audio and visuals. That said, Paw Patrol is the sentimental favorite for my toddler, thanks in no small part to the plush Chase lovey he sleeps with every night. Fortunately, he gets a good dose of Paw Patrol at his babysitter's house so he's more open to watching Puppy Dog Pals at home. Regardless, his dog days may be winding down. The older he gets, the more it looks like Doc McStuffins will be making her case for 'Queen of the Screen.'
Christian Dashiell is a father of four living in rural Kansas. He is passionate about justice issues and decompresses by telling jokes and honing his BBQ Jedi skills.
This article was originally published on