10 Streaming TV Shows and Movies Guaranteed to Inspire Adventure All Summer
Summer streaming is the new summer reading.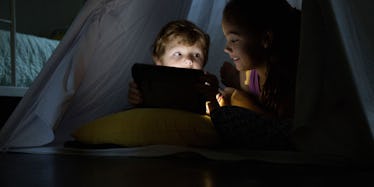 The following was produced in partnership with Hulu. With all your TV in one place, Hulu is the perfect companion for your family's summer adventures.
Summer is the ideal opportunity to catch up on all the great content you might have fallen behind on. It's also when you're most likely to have to share the screen with the family. Lucky for you, Hulu has hundreds of film and TV titles made for you and the kids, so screen time can be family time without being solely children's show time — at least some of the time.
Summer is also a great time to seek adventure, and Hulu has you covered there, too. From nature documentaries to animated shows that will excite grown up kids and actual ones, here are 10 streamable shows and movies that will inspire the entire family to seek exciting new feats and frontiers. And when the kids finally crash out from their adrenaline high, premium Hulu add-ons like HBO and Showtime mean you can settle in and finally watch all that stuff you missed. Consider it your new summer reading list.
Curious George
From his unlikely origins in World War II-era France to more than six decades of best-selling books and now to streaming screens everywhere, this impish chimp has been synonymous with adventure. This version of the series introduces new characters and settings and inspires kids to explore their worlds. By retaining the sweetness of the source material, it also manages to remain familiar to parents, who now will relate less to the title character and more to the ever-present Man in the Yellow Hat, who must be utterly worn out after 65 years of trying to keep up with his curious little primate pal.Age Group: Little Kids Available seasons: NINE
Adventure Time
On the surface, Adventure Time looks like a cartoon for toddlers, but it's actually geared towards older kids (eight and up). The series follows Finn and Jake's escapades in the over-the-top world of Ooo and harkens to your old favorite 90s cartoons as weird and wacky situations arise. To get a sense of how completely nonsensical it is, imagine Seth Rogen making a PG-rated kids' cartoon. Then watch the musical episode, "Music Hole" (get it?), and see how closely it matches your vision.Age Group: Big Kids Available Seasons: SEVEN
The Muppet Movie
Easily the greatest film featuring Jim Henson's creations is also the perfect introduction to the whole gang; all the characters meet for the first time in this classic road trip flick. If your kids never saw the Muppets, this is a great way to start or restart them on the franchise. Some of the cameos like Dom DeLuise might get past them, but the movie really does stand on its own decades later. And its musical soundtrack jams are every bit as earwormy as "Let It Go."Rated: GAge Group: Little Kids, Big Kids, and Family (Because Muppets are for everyone.)Run Time: 97 MINUTES
Spy Kids
It turns out that the best movie about spies for kids is actually pretty fun for adults, too. Directed, surprisingly, by Robert Rodriguez (Sin City, Planet Terror), Spy Kids is the first of four films in the franchise where children of decorated spies have to save their parents from danger. While superhero movies are, of course, awesome, it's still nice to see a film where kids, and not giant green men, are the stars. Not men at all, in fact, since the lead character is a girl.Rated: PGAge Group: Big KidsRun Time: 90 MINUTES
The Amazing World of Gumball
Meet Gumball, a 12-year-old blue cat and his best friend, Darwin, a goldfish, who both attend middle school. Behind all the zany cartoon stuff (like a walking, talking, breathing-air-out-of-water fish), the show explores how families function and exist by hitting on themes like parenting, adoption, and financial struggle. And also zany cartoon shenanigans.Age Group: Little Kids Available Seasons: FIVE
Rick Steves' Europe
This show is great for parents and older teens because your seven-year-old may not care too much about red wines native to Barcelona. The long-running travel show is a PBS staple and one the best travel shows on TV, period. Steves may look like your old high school substitute teacher, but the dude knows Europe better than most Americans know America.Age Group: Big Kids and Family Available Seasons: EIGHT
Steven Universe
Similar to Adventure Time, Steven Universe is a show that works on two levels for kids and adults. The main difference is that Steven Universe dials way back on the odd and bizarre stuff in favor of more heart and soul. The series is a coming-of-age story for young Steven and his friends, three magical human aliens. The show has been praised for its tone and LGBTQ inclusion, which reminds you that not all kids' shows are brainless and cartoons can make a truly positive impact.Age Group: Big Kids and Family Available Seasons: THREE
The Amazing Race
Perhaps the greatest reality competition show, The Amazing Race is a big budget race around the world with pairs of everyday people (traditionally family members) competing for a large cash prize. Race has won the Emmy for Outstanding Reality-Competition a record-setting 10 times and it's easy to see why. For a globe-trotting series, Race feels well planned, polished, and incredibly breezy, eschewing reality TV tropes like bleeped language and sucker punches for gorgeous scenic vistas. Guaranteed to inspire ideas for the next family trip.Age Group: Big Kids and Family Available Seasons: 27
Teenage Mutant Ninja Turtles
For the family of comic book nerds, the new TMNT is a perfect series. New fans (aka children) and parents who grew up on past iterations of the heroes in a half-shell will all find something to love. It mashes together the comic, film, and cartoon versions of everyone's favorite reptilian warriors while carving out its own path. The masked, green crime fighters are fun, smart, and silly, yet still able to be serious ninja masters — and save room for pizza.Age Group: Little Kids Available Seasons: FOUR
American Ninja Warrior
For cord-cutters starved for streaming sports, American Ninja Warrior is a gift from high on Mount Midoriyama. Nearly every contestant has a message of hope, glory, and honor to tug at the ol' heartstrings or inspire young viewers, and the athleticism on display is legitimately incredible. It's nearly impossible to take your eyes off the weekend warriors as they attack the most insane obstacle course on this side of the world (the show is a spin-off of the original Japanese series). Just be forewarned — you may have to build your kids a course in the backyard before they turn your living room into one.Age Group: Big Kids and Family Available Seasons: ONE (current season)
This article was originally published on