The 6 Best Games For Everyone In Your Family, According To The Oscars Of Video Games
You should play 'Overwatch' because it's the best game of the year.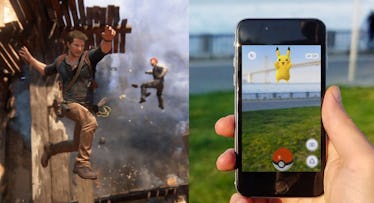 For 17 years, the Game Developers Choice Awards have celebrated the brightest developers and best games to hit consoles, PCs, and phones. This year, we took the biggest winners and broke them down into the best games for you (you know, with all that free time), your kid, and your entire family. Because you really don't want to play the latest version of Dance Dance Revolution ever again.
For Your Next Gaming Obsession
Game of the Year: Overwatch (Blizzard Entertainment)
Overwatch is huge. The fact it won GOTY shouldn't be a surprise. Why? Well, the game has 25 million players worldwide, and it's on the verge of becoming the next big thing in eSports. It's made by same developer, Blizzard Entertainment, behind World of Warcraft, arguably the biggest game of all time. But the biggest difference between the two titles is that Overwatch is on home consoles and PC unlike WoW, which is only on computers. So you can start playing Overwatch right now if you have PS4 or XB1.
If you're looking for a game that's going to pay off in the long haul, then Overwatch is your move. It's immersive (with a rich depth of characters to suit your style), there's a huge community backing it, and it's made by the best. It's as if a major film studio only released movies that won Best Picture, but the movies were like Lord of The Rings fantasy with John Wick action.
For Pick Up And Play
Best Visual Art: Inside (Playdead)
Inside is an indie darling, but it did something not many indie games accomplish ⏤ win universal acclaim and attention from mainstream media and audiences. Playdead, the Danish developer, has only made two games so far (the other being highly praised Limbo) and Inside has just blown people away. It's a wordless, eerie, 2D side-scrolling puzzler, and without spoiling much, you play a nameless boy who's on the run. The main story mode can be completed in anywhere from 3-6 hours, depending on your play style, but it's nowhere near as time-consuming as Overwatch if you're looking for a quick pick-up-and-drop-out game.
For Running, Gunning, And Reliving Your Indiana Jones Obsession
Best Technology: Uncharted 4: A Thief's End (Naughty Dog)
If Overwatch is the Moonlight of the gaming community, and Inside is the Best Foreign Film winner, then Uncharted 4 is the loud blockbuster that you want to watch over and over again. It's a sequel with witty banter, explosions, adventure, and a swash-buckling hero. It's definitely the Captain America: Civil War of games and just like Marvel movies, you should be somewhat familiar with the adventures of Nathan Drake before jumping in. But if you don't have time, think of him as Indiana Jones-meets-Lara Croft. Do you really need more of a reason to play?
For Kids
Best Mobile/Handheld Game: Pokemon Go (Niantic)
Your weekends are probably already filled hunting Pokemon. But for the 12 of you who are not, Pokemon Go is the insanely popular, fun, family operation that will get your kids outdoors to play. Also, the game app utilizes AR technology and there seems to be a neverending wealth of new content and characters being uploaded to the game. It's better than having your kid play Subway Surfers for the billionth time.
For Older Kids
Best Narrative: Firewatch (Campo Santo)
There isn't much to Firewatch, but that's why it works so well. Gamers play Henry, a fire lookout, who after his first month on the job is starting to notice weird things happening around the Shoshone National Forest. It's a first-person game, and you spend it selecting dialogue options while speaking to Henry's supervisor, Delilah. Again, it doesn't sound like much, but it's immersive style and gripping story is probably why Hollywood is planning to make a movie out of it.
For The Entire Family
Best VR/AR Game: Job Simulator: The 2050 Archives
Have your kids ever wondered what it would be like to spend the day at daddy's work? Well, this game doesn't really capture that feeling. But it does make a VR parody out of it. Simulator is a fun game that anyone can play and will enjoy thanks to its silly computer-screen-faced bosses telling you what to do when it comes to your "day job". It might be the first and only time you call in sick to stay home and … pretend to work!
Job Simulator: The 2050 Archives
This article was originally published on