The 5 Best Family Ski Resorts For Your Winter Getaway
From epic activity centers to terrain parks for toddlers, these family-friendly ski resorts make winter vacation easy.
by Dave Baldwin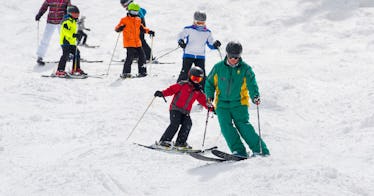 Few activities take a backseat to kids more so than skiing and snowboarding. Unless you live near a mountain and can skip work on a Wednesday, hitting the slopes with a toddler is challenging enough to make even the most hardcore skier reconsider waiting a few years. But long lift lines, packed runs, and crowded lodges aside, riding or skiing with kids doesn't have to end with a meltdown on the bunny slope.
While most bigger resorts offer some combination of kids lessons, alternate activities like tubing and ice skating, and even licensed onsite daycare for infants, a handful of mountains across the country take family skiing to the next level. They advertise epic snow forts and massive play centers, separate kids' slopes and terrain parks for toddlers. Some let kids ski free. Others let parents buy one shareable lift ticket so they can take turns watching the kids. All aim to make it easy for children to learn how to ski and parents to actually hit the slopes. And these five ski resorts do it best.
Smuggler's Notch
Jeffersonville, Vermont Long considered New England's most kid-friendly spot, Smuggler's Notch in Vermont (about 45 miles outside of Burlington) is consistently named Ski magazine's best for families. And for good reason: 20 percent of the runs are green, the ski school starts at age 2.5-years-old, and on-site childcare is available for infants as young as six months ⏤ meaning parents get more time on the mountain and less in the lodge. What really sets Smuggs apart though are the non-skiing activities ⏤ from ice skating, tubing, and snowcat rides to Airboarding (inflatable sledding), indoor pools, and nightly bonfires for the entire crew. And that doesn't even include Teen Alley ⏤ where kids 13-to-19-years old can play ping pong or dodgeball ⏤ or the massive Fun Zone 2.0 Family Complex, a 26,000-square-foot entertainment pavilion complete with mini-golf, laser tag, and obstacle courses.
Keystone Ski Resort
Keystone, Colorado Colorado's Keystone gets called out for being family-friendly on Trip Advisor more than any other resort in the country — it's pretty much the gold standard when it comes to catering to kids. In fact, stay more than two nights and kids under 12-years-old ski for free ⏤ no questions, no blackout dates. Located about 75 miles west of Denver, the resort features snow tubing and sleigh rides, ice skating and cat tours. Ski lessons start as young as age three, there's all-day daycare for infants, and 50 percent of the terrain is an easier green or blue. There's even a trail where kids can ski with the resort's mascot. As if that wasn't enough, Keystone is home to the "world's largest snow fort" ⏤ a legit fort with slides, ladders, and towers in which to climb ⏤ and the Kidtopia activity center, where kids tired of the slopes can do everything from play foosball or learn about the local wildlife.
Deer Valley Resort
Park City, Utah If there was any doubt about Deer Valley being tailored to families, look no further than the four furry mascots that roam the resort (Ruby the Racoon, Bucky The Buck, etc.) and the trail map designed just for kids ⏤ it highlights easy runs in kid-designated areas like Ooompa Loompa Land. All-day ski school at the Candy Land obstacle course starts at age three and the licensed child care center takes infants as young as two-months-old. There are snowmobile rides, snowshoeing adventures, and plenty to do in Park City when you're taking a break from the powder.
Northstar California
Truckee, California Located on the north side of Lake Tahoe about 40 minutes from Reno, the family-friendly Northstar has not one but two Kids Adventure Zones on the mountain (Skicology and Wagon Wheel) and a terrain park exclusively for riders under 6-years-old. The 'Ultimate 4' lessons guarantee no more than four tikes per ski instructor, there's child care for kids 2-to-6-years old (at the Minor's Camp), and non-skiing fun includes everything from a cross-country center and 600-foot tubing hill to ice skating and a bungee trampoline. Better still, you get a wagon for hauling kids/gear upon arrival and you can buy a transferable 'Parent Predicament Ticket' so parents can take turns skiing and watching the kids.
Whiteface Mountain
Lake Placid, New York What's cool about Lake Placid, in general, is that having twice hosted the Winter Olympic Games in 1932 and 1980, a lot of the Olympic venues are still in place. So in addition to skiing, you can also visit the site of the 'Miracle on Ice,' toboggan down a ski jump, cross-country ski on the biathlon course, and take a real run down the bobsled track. There is no shortage of cool winter activities for the entire family. What's cool about Whiteface Mountain, specifically, is that it has its own Kids Kampus, a smaller hill complete with separate chairlift (and a magic carpet), ski school, and Bears Den Nursery, not to mention a rad mini-terrain park for kids ages 3-to-6-year olds.
This article was originally published on