The 19 Best Episodes of "Mister Rogers' Neighborhood"
Let's face it: every episode deserves to be on this list. But here are some of our all-time favorites.
by Fatherly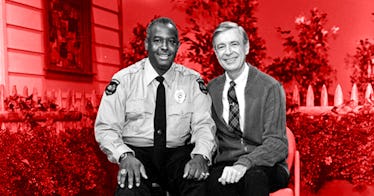 Dr. François S. Clemmons/ Wikimedia Commons
Choosing the best episodes of Mister Rogers' Neighborhood is kind of like choosing your favorite moment of your own child's life. It's kind of like, well, all of it? It's an impossible task, really. The show was wildly consistent, with each of the 912 episodes (counting specials), nimbly dealing with real-world issues and emotions that helped children understand the world — and themselves — a little bit better. In the show's remarkable run, Fred Rogers and his cast of characters, both real and make-believe, sang operas, toured factories, cried, argued, laughed, and learned from psychologists and break dancers, jazz musicians and marine biologists. Through it all, Mister Rogers broke barriers and shared his message of kindness and inclusivity while speaking honestly and directly to children. To that end, every episode of Mister Rogers' Neighborhood is exceptional. In deciding on what we think are the best episodes, we looked to those that included iconic moments, yes, but also those that simply resonated with us the most. Here, then, are (some) of the best episodes of Mister Rogers' Neighborhood.
Episode 1634: "Growing"
Haircuts are scary! Does it hurt? Does it feel weird? Why not? Mister Rogers goes under the clippers in this episode to explain why haircuts are nothing to fear. He also discusses growing a bean, a theme he returns to over a few episodes, to show how growth takes time. "Growing" is a small episode, but a triumph because it exemplifies how Rogers spoke to his kids sincerely about issues that worried them and made them curious. Meeting kids on their emotional level — and taking those concerns seriously — is what he was all about.
Episode 1739 "Noisy and Quiet"
For 31 years, Fred Rogers had a one-sided conversation with his fish. Then — in classic Mister Rogers style — he decided to listen to what they had to say. With the help of Sylvia Earle, the Michael Jordan of underwater exploration and a recurring show guest, Rogers drops a mic in his tank. The best bit? They don't really do anything. Because life is like that sometimes. But at least Mister Rogers cared enough to try. Cut to a totally engrossing video about fish sounds.
Episode 1300: "Potato Bugs and Cows Opera"
This exactly what it sounds like. People dressed up as potato bugs and cows doing an opera about being potato bugs and cows. As an opera, is this better than La traviata? Debatable. But it's certainly better for your kids.
Episode 1476: "Divorce"
How do you talk to kids about divorce? Mister Rogers definitively answered this question in 1981 and his words have echoed through parenting advice columns since. "Sometimes mommies and daddies don't love each other anymore." To hear this from a parent going through a divorce is one thing, but Mister Rogers, well, he has the power to break through and deliver the lesson in a way that makes kids understand it's really, truly know it's going to be okay. Also, crucially, it's not their fault, and the love mom and dad have for you won't be diminished one bit.
Episode 1472: "Makes an Opera"
A lot of Mister Rogers' Neighborhood episodes feature visits to places where things are made, but the one about sweaters might just be the most meta, given Rogers' own trademark collection, which were knitted, of course, by his mom. After showing viewers a few examples of his mom's handiwork ("a lot of practice!"), he shows kids a loom and a factory where sweaters are made. The old-timey vibes — the sweaters go in cardboard boxes, and are delivered to stores — just make it even better.
Episode 1065: "Title N/A"
It's a hot day in the neighborhood and Mister Rogers soaks his feet in a small kiddie pool. When Officer Clemmons arrives, Rogers invites him to do the same. The two men then sit and sing, their feet in the cool hose-water. The scene aired in 1969 and by inviting Officer Clemmons to join him, broke a well-known racial barrier. Pools were segregated at the time, something with which Rogers, an avid swimmer, wholeheartedly disagreed. Seeing as he had a position to make a statement, Rogers created the scene to make a statement about shared humanity. It's since become one of the most iconic in the entire series, and was replicated years later when Clemmons returned and shared a foot soak in the kiddie pool again in 1991.
Episode 1536: "Food"
This episode is all about, well, food and features an iconic segment in which Mister Rogers discusses how mammals get nourishment when they are young. "Most baby animals and human babies start out by drinking their mothers' milk. Let's just think of all kinds of babies drinking milk," he says in his gentle voice before showing clips of various mammals feeding. Included in that reel is a scene of a mother breastfeeding her infant, a clip that helped to normalize subject which was, at the time, a controversial topic. "Mothers often find a lot of pleasure in feeding their babies," he said. "Feeding can be a wonderful way of expressing love." Damn straight.
Episode 1546: "Music"
Mister Rogers wasn't always loosey-goosey with breaking the fourth wall. And one might imagine that doing so would kill the magic that he cultivated. But every time Mister Rogers revealed his studio it made the show feel even that much more incredible. In this 1985 episode, he gives children a chance to meet the incredible jazz musicians who scored the program live, including pianist Johnny Costa who was a longtime collaborator. The piano lilts, the bass takes it for a walk and the drums are all whispering brushes.
Episode 1530: "Work"
Mister Rogers reveals that his "house" is really part of a TV studio. Arguably, Fred Rogers broke the fourth wall in every episode, by talking to the audience. But this takes it to another level. Here, Mister Rogers acknowledges the hard truth that everything on his show is slightly fake. It's a level of honesty that is truly amazing.
Episode: 1764: "Celebrates the Arts"
In this episode, Mister Rogers talks about how what's inside of you matters the most. In the B-plot, Lady Elaine struggles with people making fun of her nose and feeling ugly. She eventually realizes that the mean comments are because she doesn't say anything nice to people that they are mean to her. What a small, beautiful lesson.
Later, Mister Rogers receives a quilt from his friend and then starts making his own, which is different and clumsier, and says that everyone's work is different! And that's okay. He ends the episode ends with this powerful quote: "People can like you exactly as you are. It's what's inside of you that matters most. Our thoughts and our feelings, the way we treat other people, the way we love one another, that's what matters much more than what we look like. I like you exactly as you look right now." This is true of Lady Elaine; that's true of the quilt that Mister Rogers made. The intentions behind our actions and doing good is what matters. Not if the quilt is pretty, or if the nose is nice.
Episode 1484 (1981): "Competition"
NFL legend Lynn Swann, then of the Pittsburgh Steelers, hangs out with Mister Rogers to talk about competition. He also eventually reveals he's also taking ballet classes. So yeah, a badass NFL player not only chills with Fred Rogers, but does some ballet moves, too. Epic.
Episode 1542: "No and Yes"
Mister Rogers had a knack for bringing up small, personal moments from his childhood that made him relatable and trustworthy. Here, he shares a true story about how, when he was a boy, he picked a flower from his neighbor's yard without permission. He turns the anecdote into a simple lesson about not only permission and boundaries but the beauty of appreciating things without touching. It's exquisite.
Episode 1478: "A Boy in A Wheelchair"
Here, Mister Rogers does what he does best: exploring differences without being condescending. The episode features John Erlanger, a 10-year-old boy who, from a young age, has been a quadriplegic and uses an electric wheelchair. Jeff shows Mister Rogers how his wheelchair operates and they share a frank conversation about his physical handicaps. Together, they sing "It's You I Like." The innocent curiosity and emotional honesty of the clip are vintage Rogers, and it's not at all surprising that he and his Erlanger, whom he'd known since the boy was five, stayed in touch over the years. Erlanger even surprised Rogers by appearing at his 1999 induction into the TV Academy Hall of Fame and the genuine look of happiness that washes over Rogers' face as he sees his friend is exceptionally touching.
Episode 1172: "Title N/A"
Ventriloquist Susan Linn visits Mister Rogers with her puppets Audrey Duck and Catalion. In a scenario that resonates for most kids, Audrey Duck doesn't want to introduce Catalion to Mister Rogers, for fear that he'll like Catalion more than her. Susan talks her through her feelings of jealousy, explaining the nature of friendships. This scene is great, not just for its lessons but for Linn's incredible ventriloquism, gentle nature and way of speaking, and fantastic '70s style.
Episodes 1486, 1487, and 1488 "Play" and "Where Has Lady Elaine Gone?"
This trio of episodes is all about the Neighborhood of Make Believe and a chain of disastrous events that led King Friday the XIII to abolish play. The epic plot arc begins in episode 1486 when force of chaos and gentle rapscallion Bob Dog borrows a ladder to retrieve a ball from the top of X the Owl's tree. But just as he reaches the ball, Bob falls. That fall is a rare moment of heart-rending action in the otherwise deliberate pace of the Neighborhood of Make Believe. (Watch closely, and you can see one of Bob's feet pop into the air on impact.) The episode ends with Bob Dog taken to the hospital. In Episode 1487 King Friday, rattled by Bob's fall, outlaws all play. This rubs the libertarian Lady Elaine Fairchilde the wrong way, particularly considering she's contentedly building with blocks, and she moves her Museum-Go-Round out of the neighborhood in protest. It's quite the scene. In episode 1488 they track her down and she returns. Eventually everyone realizes the innate need to play and it returns. It's a trio of episodes that pulled no punches exploring the real-life consequences of protective actions, how rules can reverberate, and why the act of play can, in its own way, be an act of protest.
Episode 1520: "Day Care & Night Care"
Mister Rogers factory visits were always a special occasion. While his visit to Crayola always comes to mind, this episode, in which he visits a graham cracker factory, is also exceptional. Wearing a paper hat reminiscent of an old school soda jerk, Mister Rogers, admittedly a fan of the sweet cracker, is lit up with excitement as he watches how they're mixed, formed, and pressed. It showcases Rogers at his best: offering gleeful and contagious enthusiasm for understanding how something so familiar comes into being — and the people who make it happen. Elsewhere in the episode, Rogers does parents everywhere a favor of explaining to kids through the Land of Make Believe that, sometimes, parents have to leave them in the care of others. A sweet and savory episode if there ever was one.
Episode 1483: "Competition"
Two titans of industry, Big Bird and Mister Rogers meet. It's, sadly, a bit underwhelming. The scene where Big Bird appears is a few minutes long and is limited to the Neighborhood of Make-Believe. But when you know how it came to be, this episode earns its keep. Leading up to the cameo, Fred Rogers and Caroll Spinney (who plays Big Bird) had a 20-minute argument over whether or not to have Spinney break character and tell kids how he performs Big Bird. Rogers didn't want to deceive the kids, Spinney didn't want to ruin the illusion, and so two of the greatest minds in children's programming tangled. Ultimately, Big Bird stayed in character, but was confined to the land of Make-Believe. In a twist, Rogers preceded Big Bird's appearance by dressing in a giraffe costume and letting the kids know there was always someone underneath the costume, no matter how realistic it looked. Don't mess with Mister Rogers.
Episode 1527: "Work"
In this episode, Mister Rogers visits a dairy farm and handles a heat wave in the Land of Make-Believe. But the best bit — the bit that lands it on this list — comes at the end when he uses empty milk cartons to make building blocks, explaining that kids can't always get the toys they want. This is to say that he literally recycles the first part of the show to drive home a point about money — and to do parents the profound favor of normalizing "no."
Episode 1101: "Title N/A"
Mister Rogers finds a fish lying motionless at the bottom of his beloved fish tank and enlists viewers' help, first in trying to revive it and then giving it a proper burial. While burying the fish in the yard, he reflects on the death of his childhood dog Mitsy and talks about how sad he was and the difficulty of the experience. He puts on a masterclass in how to talk to kids about hard subjects: he uses straightforward language (the fish "isn't swimming, or breathing, or doing anything at all"), validates the sadness of loss, and sings sweetly about the impermanence of sadness. Sadness is natural. It's how you deal with it that matters.
BONUS: Drunk History Season 5 Ep 6 "Mister Rogers' Beautiful Life"
Maybe don't watch this with the kids, but do watch it. Here we get Mister Rogers' origin story, in which our hero sticks to his convictions, creating a show that kids need rather than a show that parents want and 10,000 people show up to his fundraiser in Boston. Colin Hanks stars — and makes you wonder if dad stole a role — giving Rogers a profound sweetness while dropping gems, including the best Fred Rogers quote that Fred Rogers never really said: "Puppets are tight.
This article was originally published on