The 10 Funniest Dad Tweets From This Week
The wonderful and weird musings from dads on Twitter this week.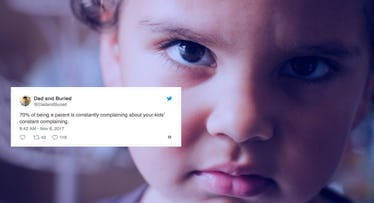 One of the best parts of being a dad is the sheer absurdity of it all. The strange sentences you find yourself speaking to your kids on a daily basis; the odd interactions you have with people you'd otherwise never hang out with; and, of course, the wild things your kids do and say every other second. And there's nothing better than hearing from other people who can empathize with or articulate some truth from that world. Thanks to Twitter, there's an influx of funny dads who are sharing the funny, silly, frustrating, and truthful things that happen in their lives. It's a blast. Here are ten of the funniest dad tweets from the past week.
A Whining Example
Batmom to the Rescue
Welcome to the Dadisson Hotel
The Healing Power of Pizza
Level Up
Anti-Aging Supplements
Pure Imagination
Man's Best Friend
What's Better Than a High-Five?
Cleaning Up
This article was originally published on