9 New Books Every Guy Should Read This Summer to Be Better and Smarter
A summer reading list that can also make you a better person.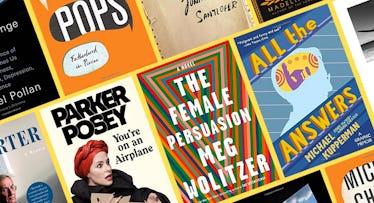 It's summer book season. Hopefully, what with the longer days and a few vacations thrown in there, you'll have a chance to catch up on your reading. The last thing I want to do is eat up that time recommending new books to read (though there are many and they are wonderful.) It's like how when I have an hour to watch television I end up just scrolling through Netflix until there are just ten minutes left and I seek refuge in trash Youtube clips. So I'm gonna give this to you fast.
Each of these books, which span memoir to novel to non-fiction, are meant to a) be a fun and/or fulfilling read and b) do what books do best, open up your world. Some are about, or by, people you know — i.e. Reporter, You're On An Airplane — but add unexpected and insightful details to their lives. There are a handful about fatherhood, from Michael Chabon's touching Pops to the graphic novelist Michael Kupperman's All the Answers, a graphic memoir about his father, Joel Kupperman, who was once known as the "smartest child in the world." A substantial number of these, from Madeline Miller's brilliant retelling of the Odyssey from the point of view of the witch Circe to Meg Wolitzer's deeply affecting The Female Persuasion, reframe narratives we as men — and as fathers — take as written in stone. Fiction builds empathy, something we can all do with more of, a phenomenon made clear not only by Wolitzer and Miller but in the heartbreaking memoir of widowhood by Jonathan Santlofer and the spare mournful verse of many of the poets anthologized in New Poets in Native Nations. There's a lot to read because there are a lot of worlds out there to explore. Without wasting any more time, here's what you need to read to end this summer a better person.
Reporter by Seymour Hersch
Whenever you're feeling stressed about your own deadlines, take a page from legendary newsman Seymour Hersch's riveting account of a life in letters. Hersh, who broke both My Lai and the Abu Ghraib torture story, is a masterful weaver of stories, not just breaker of them. There he is working at his dad's dry cleaner in Chicago. Then there's the time he threw his typewriter out of the New York Times window. (A typewriter is like a computer, but analogue.) And the time LBJ shat in front of a reporter friend of his to show what he thought of his stories. All of it is delightfully told and, in an era of #fakenews, has the added benefit of being true. Out: June 5th
You're On An Airplane by Parker Posey
Chances are you probably want to hang out with actress and stellar human being Parker Posey but chances are you never will. It would be a thrill though, the actress is so funny and droll and — sigh — quirky. Her memoir, You're on an Airplane: A Self-Mythologizing Memoir, is the closest you'll get to QT with P.P. But the book, a mess of collages and recipes (her mother was a chef) and how-tos and reminiscence from her childhood in Louisiana and Mississippi, is a good body double. Out: July 24th
Pops: Fatherhood in Pieces by Michael Chabon
Chabon's book of essays on fatherhood was begat from this GQ essay about bringing his son to Paris Fashion Week. (Sigh, print magazine budgets). These seven essays range from meditations on balancing creativity and child-rearing to thoughts on his own overbearing father. The essays are told with the same sparkling prose that makes Chabon's 14 books so pleasurable to read but with a real hot-wire truthiness, hard-earned after four children. Out: May 15th
The Female Persuasion by Meg Wolitzer
There are some relationships to which we men will never be privy, never fully understand. The friendship between two women is probably the most unknowable of these. Meg Wolitzer, awesome author of The Wife, The Interestings, and The Uncoupling, lays it all out in this novel. The story is about a recent college graduate named Greer Kadetsky and her older mentor, a feminist professor named Faith Frank (some name!). What it's really about — negotiating power, growing older, dealing with rage, grappling with the women's movement — are topics that we men rarely see from a female perspective. Wolitzer, who is a brilliant layerer of complex emotion, doesn't just give you the (much-needed) female perspective but persuades that these are the stories we as men need to read more of. Out: April 3rd
Circe by Madeline Miller
Sure, Odysseus is cool and The Odyssey is dope. But Madeline Miller's revolutionary retelling of Homer's tale — revolutionary in the literal sense of revolving the tables — through the eyes of the seductress sorceress Circe gives the original some good competition. Not so much a cover or a presentation of alternative facts, Miller's book rather explores the "human" side of the sorceress. Through Homer we get just a glimpse of her. Through Miller, her interior life comes alive, her hopes, dreams, and heartbreak are made real. The book, like its heroine, is enchanting. Out: April 10th
All the Answers by Michael Kupperman
For a long time, I thought of Michael Kupperman as a funny guy. Because the cartoonist is one. (His earlier book Tales Meant to Thrizzle does as it promises ) But as All The Answers makes clear, he's also a sad tender one. This is Kupperman's Maus moment. The black-and-white graphic memoir delves into the world of his father, Joel Kupperman, a former math whiz and celeb on the mid-century television show Quiz Kids turned professor, author and semi-communicative parent. Kupperman pere suffers from dementia so the book is also an urgent reconnaissance mission, one whose fractured perspectives are tailor-made for Kupperman's multi-panel visual storytelling. Out: May 15th
How to Change Your Mind: What the New Science of Psychedelics Teaches Us About Consciousness, Dying, Addiction, Depression, and Transcendence by Michael Pollan
I guess after eating good food for all these years, Michael Pollan wanted to party. Kidding. The author, best known for The Omnivore's Dilemma, turns his mental acuity to the world of mind-alteration. In the tradition of Timothy Leary, Carlos Castaneda, and Aldous Huxley, he opens our gates of perception. Easily donning the hat of a science journalist, Pollan traces both the study of LSD and psilocybin as well as the challenges of applying scientific methodology to truly far-out experiences. And while not neglecting other ways of transcending ego, it is true that if The Omnivore's Dilemma convinced you to eat less meat, this book will likely convince you to drop more acid.
New Poets of Native Nations Edited by Heid E. Erdrich
Poetry is a hard sell because it's hard to go soft and let the words pierce you, which is kinda what you have to do for poetry to be worthwhile. You have to pay attention. The young Native poets in this anthology, however, give you no choice but to heed them. The lacerating poetry of Tommy "Teebs" Pico and Layli Long Soldier, two of the 21 wildly talented poets selected by Heid Erdrich, are voices that demand attention and deserve it too. Out: July 10th
The Widower's Notebook by Jonathan Santlofer
When his wife, Joy, died in 2013, author and artist Jonathan Santlofer struggled to readjust and re-enter the land of the living. The notebook, this year's The Year of Magical Thinking, is a chronicle of this long journey back. It's beautiful and, naturally, heartbreaking; unexpectedly funny and brutally honest. Death, which will come for us all, is here stared squarely at. It makes for an uncomfortable but unforgettable encounter. Out: July 10th.