The Best Dinosaur Books for Kids
From T. Rex-loving toddler to 10-year-old Jurassic genius, there's something for everyone in this list of dinosaur children's books.
by Tobias Carroll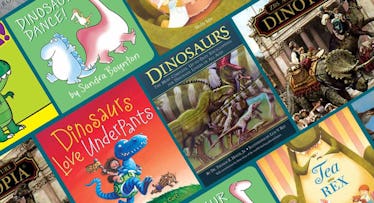 It should come as no surprise that dinosaur books for kids are as popular as ever. Who doesn't love dinosaurs? Whether we're viewing them on the big screen, playing dinosaur apps and games, gazing at dinosaur bones at a museum, or watching animatronic re-creations of them lumbering around a primordial set, it's almost impossible to avoid being awestruck by these hallmarks of a world long gone. "They are creatures bigger than us, sometimes bigger than our imaginations," says Jeffrey Salane, the editorial director for Simon & Schuster's imprint Little Simon. "They are terrifying, fascinating, and just plain cool all at once." The best dinosaur books for kids are no exception.
RELATED: The Best Movies for Kids Who Love Dinosaurs
"Dinosaurs are the rare characters that you could probably drop into any situation and instantly create a story worth reading," he adds, noting that they can make for compelling subjects for both fiction and nonfiction, and as protagonists or background elements for the narrative. Here's a look at a number of dinosaur children's books that young readers may find thrilling, educational, and flat-out fun.
Dinosaur Books for Toddlers
Dinosaur Books for Preschoolers
Dinosaur Books for Elementary School Kids
Dinosaur Books for Older Kids
Every product on Fatherly is independently selected by our editors, writers, and experts. If you click a link on our site and buy something, we may earn an affiliate commission.