The 21 Best Books for 2-Year-Olds
Got a toddler who loves books in your life? Here's a ton of titles that can't miss.
by George Lopercio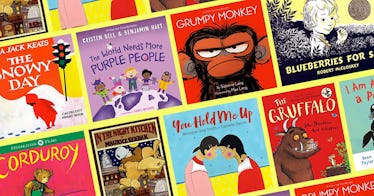 There is no tougher demographic to please than 2-year-olds. These toddlers love applesauce one day and throw it on the ground the next. When it comes to books, 2-year-olds can be just as finicky. But the right stories can transform your little maniac into a focused, curious, and joyful kid. When selecting books for your 2-year-old, the subject matter will get you in the door (animals, robots, dinosaurs), but it's the substance that keeps them coming back.
Look for books for 2-year-olds that have a lot of call-and-response (think, catchphrases), a wide range of performative emotions, and positive messages that pertain to their lives. Seem like a tall order? Don't worry, we've put together the quintessential list of the best books for 2-year-olds. Whether they're classics or contemporary gems, all of these books are rich and artful, hold up after multiple readings, make perfect gifts, and are guaranteed to become household favorites.
The Best Books for 2-Year-Olds
Every product on Fatherly is independently selected by our editors, writers, and experts. If you click a link on our site and buy something, we may earn an affiliate commission.