The Best Starter Bob Dylan Albums For Kids
Dylan is 80-years-old. But your 8-year-old (or your 18-year-old) will love him forever.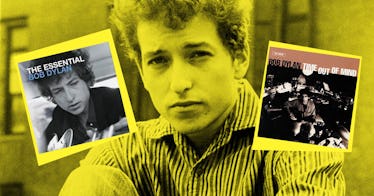 GETTY / Columbia Records
The times, they are a-changing, indeed. Bob Dylan just turned 80, and while his place is music history is assured, it's a safe bet that kids today know next to nothing of his music and even less about the man. We often encourage kids to know about John, Paul, George, and Ringo, and debate about which Beatles songs are right for kids. But can the same be said of Dylan?
How do you turn your kids onto Dylan? We've got a few suggestions, starting with five albums — and we mean albums, as in vinyl — to explore, along with a couple of related suggestions available in other media. Don't think twice, it's all right to start your kids with these Dylan albums. (Note: Although we're listing vinyl here, most of these albums can be snagged in other formats like digital or CD.
The Essential Bob Dylan (2000)
Bob Dylan (1962)
Blood on the Tracks
Time Out of Mind
Kids Sing Bob Dylan
Want to steer your kid toward an age-appropriate biography of Dylan? We suggest this Kiddle bio. Got an inquisitive teen? There's Dylan's 2004 autobiography, Chronicles: Volume One. Ready to go all out?
This article was originally published on