Five Great Shrinking Movies You Should Watch Before 'Ant-Man and the Wasp'
From 'Honey, I Shrunk the Kids' to 'Attack of the Puppet People', these are five shrinking classics you're not going to want to miss.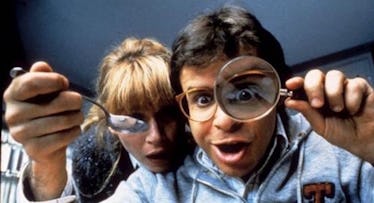 Honey, I Shrunk the Kids
Ant-Man and the Wasp hits theaters this weekend, promising viewers a whole lot of awesome mind-blowing shrinking (and enlarging) to go along with the big action and nonstop quips we've all come to expect from the Marvel Cinematic Universe. But before you head off to see the newest superhero flick, you might want to take the time to appreciate the rich movie history of shrinking, as movies have been making their characters smaller for more than 50 years. Here are five of the best shrinking movies you should watch before you head to the theater.
Honey, I Shrunk the Kids (1989)
We had to kick off this list with the quintessential shrinking movie, as Wayne Szalinski (the incomparable Rick Moranis) accidentally using his shrink-ray on his kids is a classic family movie that remains beloved nearly three decades after its initial release. It's a hilarious, heartwarming film that ingeniously used shrinking in ways that had never been seen onscreen. Seriously, even someone who hasn't seen this movie in a decade can recall Wayne's shrunken kids bonding with ants or narrowly avoid getting eaten in a bowl of Cheerios?
Honey, I Shrunk the Kids is available on HBO Go and HBO Now.
The Incredible Shrinking Man (1957)
There had been movies involving shrinking before The Incredible Shrinking Man but make no mistake, without this movie, it's unlikely any of the other movies on this list would exist. The film revolves around Scott Carey (Grant Williams), a man who finds himself inexplicably shrinking when he passes through a mysterious cloud. The Incredible Shrinking Man is rightly considered a trailblazer in the science fiction genre, as it uses the shrinking trope to ask philosophical questions about reality, purpose, and isolation.
The Incredible Shrinking Man is available on Amazon Prime Video.
Innerspace (1987)
While movies will often use shrinking as a way to ask bigger questions about our role in the universe, other movies just use it to have some fun. A great example of the latter is Innerspace, a film that centers around naval aviator Lt. Tuck Pendleton (Dennis Quaid), who is assigned to test pilot the first-ever microscopic ship but things go wrong when Pendleton accidentally ends up injected inside a grocery store clerk named Jack Putter (Martin Short). This simple, wacky comedy features great performances from Quaid and Short, who both are delightfully committed to this slightly ridiculous premise.
Innerspace is available on Amazon Prime Video.
Attack of the Puppet People (1958)
Shrinking might be good fodder for existential crises and big laughs but it also lends itself naturally to the horror genre and it's never been used to scarier effect than in Attack of the Puppet People. In the movie, Sally Reynolds (June Kenney) is hired as the secretary for Mr. Franz (John Hoyt), a dollmaker. On the surface, Franz seems like a kindhearted man who might be a little too obsessed with his prized doll collection. But over time, Reynolds slowly realizes that Franz is hiding a dark secret that may end up destroying her life.
Attack of the Puppet People is available on Amazon Prime Video.
Downsizing (2017)
Is Downsizing the best movie on this list? No. Is Downsizing even a good movie? Honestly, not really. But while the movie suffers from a lack of coherence (especially in the bland, mess of a third act), the concept is genuinely interesting and might be enough for people who are willing to forgive poor execution of a strong sci-fi premise. For those not familiar, Downsizing takes place in the near-ish future, where scientists have figured out the solution to the increasing impact of climate change: shrink people, allowing them to live a better life without using any real resources. Unfortunately, the actual story of Paul (Matt Damon) isn't very engaging but if you are a fan of movies that offer big, philosophical questions, Downsizing might be worth your time.
Downsizing is available on Amazon Prime Video.
This article was originally published on