Watch This Controversial Kids' Movie Before It Leaves Netflix This Month
What's the deal with this movie?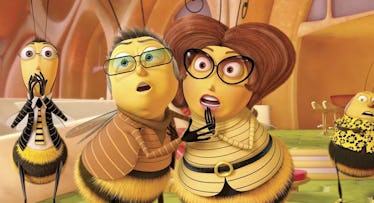 Credit: Dreamworks
Bee-lieve it. Bee Movie is one of the cutest animated family movies you've probably never seen. And even though the movie has some controversial baggage, it's still totally worth a shot. It's streaming now on Netflix, but it'll make a beeline off the streamer on March 27.
The movie, released in 2007, ranked as a modest box office success. It earned $127 million in the U.S. and another $167 million elsewhere around the globe. Nearly $300 million worldwide suggests a mega success, but modest becomes the operative word when you take into account that Bee Movie cost a whopping $150 million to produce and many millions more to market. And even with its significant numbers, when most people consider the animated movies released in 2007, they think of Ratatouille, The Simpsons Movie, Beowulf, and especially Shrek the Third before Bee Movie. Well, we're here to wax enthusiastic and suggest watching Bee Movie again — or for the first time.Bee Movie follows Barry B. Benson (Jerry Seinfeld), a bee who aspires to be something more than an average drone who spends his life making honey at Honex in New Hive City. Barry, to the shock of his best friend (Matthew Broderick), flits off to Manhattan, where he falls for a pretty – and human – florist, Vanessa Bloome (Renee Zellweger), pals around with a joke-cracking mosquito (Chris Rock), and creates a stir when he sues humans for exploiting bees and stealing their honey. The CGI animation is bright and cheery and inventive, as is the music, which is comprised of a score by Rupert Gregson-Williams (who often works on Adam Sandler's films) and a colorful cover of "Here Comes the Sun" by Sheryl Crow. And the film's humor should amuse kids and adults alike, as the jokes aimed at moms and dads (such as the bees being Bee-ish or Wasp-ish) will buzz safely over the heads of most young children.For anyone contemplating a night in watching Bee Movie, the film's background is a story unto itself. Back in the early 2000s, Seinfeld called Steven Spielberg and asked him to direct a commercial. Spielberg passed on doing so, but in turn invited Seinfeld to join him for dinner in the Hamptons, where they both live. Seinfeld and his wife, Jessica, and Spielberg and his wife, Kate, enjoyed their meal and conversation… until a game-changing lull in the conversation. Seinfeld pierced the silence by revealing that just the night before he'd come up with a concept for a movie about bees called… Bee Movie.Though Seinfeld was hoping that Spielberg would settle on Bee Movie as his next project, the Oscar-winning director suggested that Seinfeld himself make it happen. Right then and there, Spielberg phoned Jeffrey Katzenberg, his partner at DreamWorks. Katzenberg loved the idea, and four years later, the project was a reality, co-written by Seinfeld and directed by Simon J. Smith and Steve Hickner.
Now full disclosure, the film has weathered some criticism in recent years that the relationship between Barry (Seinfeld) and Vanessa (Zellweger) is somehow coded as sexual. Although Seinfeld has sort of apologized for this perception, the director, Steve Hickner, has made it clear that the intention was to depict "purely this friendship." If you're blissfully unaware of this bizarre internet controversy over Bee Movie, best to keep it that way, and just watch this charming, if occasionally strange film. (It's not any stranger, though, than the hot-and-bothered Cumberbatch version of the Grinch we got a few years ago).
The voice cast the team assembled for this movie was remarkable. In addition to Seinfeld, you've got Chri Rock (who'd done Madagascar for Dreamworks), Zellweger (who'd done Shark Tale for Dreamworks), and Broderick, listen for John Goodman, Patrick Warburton and Michael Richards from Seinfeld, Kathy Bates, Barry Levinson, Megan Mullally, Rip Torn, Oprah Winfrey, Larry King, and Larry Miller, as well as several voiceover legends, among them Jim Cummings (Pooh and Tigger), John DiMaggio (Bender on Futurama), and Tress MacNeille (Dot on Animaniacs).
And, who plays himself? That would be… Sting! You just know he couldn't pass up the opportunity.
Bee Movie is streaming on Netflix until March 27.
This article was originally published on