'Beauty and the Beast' Disney+ Prequel Series Is All About Gaston
A tale even OLDER than time.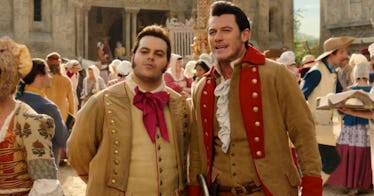 Disney
A tale as old as time is about to be told again. Disney has already transformed the French fairy tale Beauty and the Beast into an Oscar-winning animated feature (1991), a Tony-award nominated Broadway spectacle (1994), and a live-action feature (2017). And now the Mouse House will adapt the material into a Disney+ musical limited series. The show will actually be a prequel to the 2017 Emma Watson film, with Josh Gad and Luke Evans reprising their respective roles as LeFou (Louie) and Gaston, and the great Alan Menken returning to compose the score after working on all three previous iterations.
Briana Middleton will co-star as Tilly, Louie's stepsister. A rising star, Middleton's credits include several short films and the upcoming George Clooney-directed feature, The Tender Bar. We also like the creative team behind Beauty and the Beast, with Gad and the Once Upon a Time tandem of Edward Kitsis and Adam Horowitz developing, executive producing, co-writing, and serving as showrunners, and Evans also on board as a producer. Cameras will roll in the spring of 2022. As for the plot? Here's how a Disney+ press release sums it up: "Set in the iconic kingdom of Beauty and the Beast years before the Beast and Belle's epic romance, the series will follow Gaston and LeFou as they set off with LeFou's stepsister, Tilly, after a surprising revelation from her past comes to light, sending the unlikely trio off on an unexpected journey filled with romance, comedy, and adventure. While the mysteries of the past are uncovered and the dangers of the present grow, old friends and new enemies reveal that this familiar kingdom harbors many secrets."Beauty and the Beast will arrive on Disney+ — hopefully — in late 2022.