The Funniest Beatles Meme Mocks Paul's Secretly Best Song
One of the coolest moments in 'Get Back' was quickly given a hilarious twist on Twitter.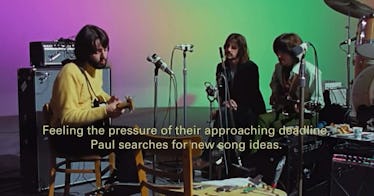 Disney+
Get Back officially premiered on Disney+ over Thanksgiving weekend and the nine-hour docuseries was a dream come true for Beatles fans, giving unprecedented access to the Liverpool lads as they were trying to put together Let It Be against a tight deadline.
One of the undeniably coolest moments in the series is when we get to see Paul McCartney come up with "Get Back," basically out of thin air. While waiting for a tardy John Lennon to arrive, Paul starts riffing on his guitar and in less than two minutes, he's put together the basic structure of the album's iconic track.
It's the kind of breakthrough that is rarely seen and Paul's musical genius is on full display as he lackadaisically creates a rock & roll classic with an air of casual indifference. The scene made the rounds on Twitter, with viewers noting how incredible it was actually getting to see a masterpiece get made in real time.
Others pointed out the hysterical fact that George Harrison and Ringo Starr both looked incredibly bored watching Paul. But, hey, when you're in the band responsible for A Hard Day's Night, Revolver, and The While Album, genius likely just feels parr for the course.
Of course, Twitter can never stay sincere for too long so Paul's jamming eventually received the meme treatment. And the best joke was definitely reimagining Paul's creative breakthrough as him writing his controversial holiday hit "Wonderful Christmastime" instead of "Get Back."
I would like to take a minute to defend "Wonderful Christmastime," which is actually a pretty awesome song that gets unfairly maligned as one of Paul's "granny tunes." It's a perfectly fitting song in the genre of Christmas music, which tends to be a bit saccharine and corny.
You can stream all three episodes of Get Back on Disney+.
This article was originally published on