New Beatles Movie Will Hit Disney+ For Three Days This Thanksgiving — As a TV Series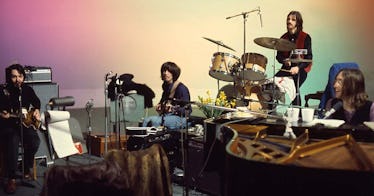 Disney+
We love it, yeah, yeah, yeah! The highly anticipated new Peter Jackson Beatles documentary — The Beatles: Get Back — is no longer just a movie. As of now, it's become a three-part, six-hour-long mega documentary series. Disney+ has just announced that the new doc will air over three nights this coming Thanksgiving on November 25, 26, and 27.
According to the press release, "Each episode is approximately two hours in length." To put this in perspective, the 1995 TV documentary The Beatles: Anthology was about 12 hours total, and that covered, in theory, the entire history of the band through the break-up in 1969. But, Get Back is ONLY about the recording of the album Let It Be, which, was recorded before Abbey Road, but eventually released later, making it, in some ways the "last" Beatles album.
A previous 1970 movie version of Let It Be presented the recording sessions for this album (originally titled Get Back) as depressing and dour. However, after discovering a bunch of unused footage, Peter Jackson realized that the conventional wisdom about this pivotal moment in Beatles history wasn't quite what we thought. As early trailers have proven, the Beatles seemed to be having a lot of fun making this album, and the new documentary will serve as a kind of counterpoint to what so many of us have been told over the years.
"In many respects, [original documentarian] Michael Lindsay-Hogg's remarkable footage captured multiple storylines. The story of friends and of individuals," Jackson said. "It is the story of human frailties and of a divine partnership. It is a detailed account of the creative process, with the crafting of iconic songs under pressure, set amid the social climate of early 1969. But it's not nostalgia — it's raw, honest, and human. Over six hours, you'll get to know The Beatles with an intimacy that you never thought possible."
Here's the amazing trailer again. With an introduction from Peter Jackson.
Get Back hits Disney+ on November 25, 2021.
This article was originally published on