Fatherly's Beach Reads For Summer 2021
Time to unplug and read books you're actually going to enjoy.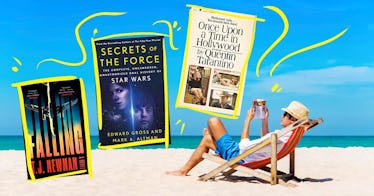 Depending on how you look at it the summer of 2021 is either half over or two-thirds over. Either way, beach days or poolside days are certainly happening, if not right now, then in your very near future. And if you're not a dad who wants to jump in and get wet constantly, you might want to simply chill out with a good book. Beach reads have been a thing since perhaps before the time of the printing press, but figuring what you want to read while you're trying to relax outside can oddly be tricky. When it comes to reading recommendations, a lot of book lists can (sometimes) feel like homework you didn't really know you had.
So, let's throw that idea away for a second and just focus on some fun, engaging summer books that you're actually going to like. Here are a few titles Fatherly has been digging this summer, regardless if they've made it onto other book lists, or not. From thrillers to non-fiction, to a novel that reads like an extended deleted scene for a movie, here's what to throw in your beach bag for the rest of the summer.
This article was originally published on