Batman Rumor: Robert Pattison Could Appear In DC TV Shows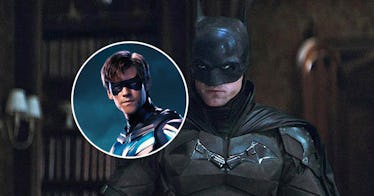 Warner Bros. Pictures / DC
Robert Pattinson is set to make his debut as everyone's favorite tortured caped crusader in Matt Reeves' The Batman next year. But rumor has it the vampire heartthrob turned man who dresses like a bat could be appearing as Bruce Wayne in the wider Batman Cinematic Universe.
According to We Got This Covered's Scott Campbell, "Robert Pattinson is expected to appear in his share of WarnerMedia content over the coming years." Since WarnerMedia is still in the early stages of this latest Batman iteration (which is officially not a part of the DC Extended Universe), it's not clear what specific content Pattinson may be appearing in but the article mentions the show Arkham, the Batman-spinoff series that will reportedly give us a look at Batman's beloved city "from the perspective of a corrupt Gotham police officer", and Zoë Kravitz's potential Catwoman solo film.
For now, this is just a rumor but it is worth noting that We Got This Covered says they heard about the Pattinson crossover from the same source who gave them the heads up about Ben Affleck cameoing in The Flash long before it was officially announced. So there's reason to believe there's some substance beyond random internet speculation or fans hoping to manifest their nerdiest desires into reality.
This kind of crossover action would make a lot of sense, given the massive success that the Marvel Cinematic Universe has had in building an intricate, interconnected world where our favorite heroes will routinely pop up in each other's movies and shows to remind fans that they all live in the same reality. Getting Pattinson in as many WarnerMedia Batman projects as possible could help get fans more invested in the newly formed Batverse, as well as firmly establishing him as the official Batman in the post-Affleck era.