Watch 1992 Teens Rip 'Batman Returns' In Resurfaced Video
He watched the movie twice "to get a real good view of it" before ripping it apart.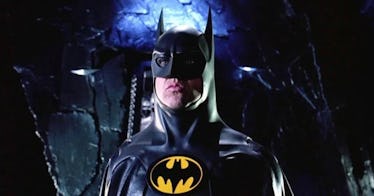 Warner Bros.
Whenever a new superhero movie comes out, there's a lot of debate in the parenting space over the title's appropriateness for kids. These blockbuster movies all come with a motion picture content rating system which gives a general idea of the movie's suitability for audiences. But a resurfaced video from 1992 shows sometimes the backlash of a film has little to do with the movie or the appropriateness of kids.
Twitter user FoundFootage shared a 59-second clip of a 1992 segment on Faith Daniels' talk show, A Closer Look. One guest on the show was Danny Slaski, a 10-year-old USA Today Summer Junior movie critic. He was there to give his take on the latest superhero movie, PG-13 rated Batman Returns, and its appropriateness for kids.
When Batman Returns was released, it received a lot of criticism from parent groups who felt the film was too violent for kids. Adding to it all, McDonald's was taken to task over its Batman Returns Happy Meal toys. So, the topic was very timely when Danny was on Faith's show, and the 10-year-old movie critic aired all his feelings about the movie.
"It was very violent, a total attack against kids, the whole movie," Danny said when Faith asked what his take on the movie was. "Everything that kids loved was being used against them – clowns, even the Penguin had a ducky boat," he continued. Danny outlined in the short clip that everything about the Penguin was terrible, saying the villain's "whole goal was to hurt kids."
It's hard to believe these feelings were Danny's honest ones. He watched the movie twice "to get a real good view of it" and admitted the film was "too scary" for kids. But what he said next didn't do much to quell the talk that this resurfaced segment was maybe staged.
"I came out of Terminator 2 just fine," Danny admitted before he switched back to listing all the "problems" with Batman Returns.
Terminator 2 is rated-R. Sure, Danny, sure.
You can watch an extended version of this segment, which is just under 9-minutes long and focuses on how the scary Batman movie was marketed to kids.