3 Awesome Science Things to Show Your Kid Today
Including rainbow mountains and a creature known as the bony-eared assfish.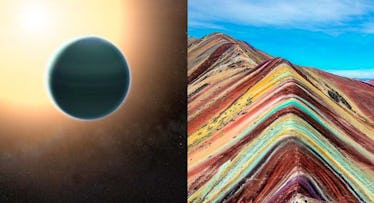 Every day the internet gifts us a weird, wonderful mix of videos, GIFs, and memes, the best of which offer funny, informative, horizon-expanding stuff to share with your kids. Problem is, it takes a while to wade through all the other nonsense to find them. And who has time for that? Not you. Here, then, is a daily dose of new science-related content to share with your kids. Hopefully, they'll spur some interesting family conversations or just keep them from playing with a fidget spinner for a while. Today's finds include a fish with a hilarious name and an "impossible" planet that could change the way we think about space.
Introducing the Bony-Eared Assfish
It's hard out there for the bony-eared assfish. Even doubly so considering the ill-named species also holds the record for the smallest brain-to-body weight ratio of all vertebrates. A bathypelagic species (meaning one that lives in the Bathyal zone of the ocean between 3300 and 13,000 feet), senior assfish is actually a cusk-eel commonly found in deep, tropical waters. This specimen is currently on display at the Royal BC Museum in British Columbia, Canada and museum curator of vertebrae zoology Gavin Hanke admits that kids love the new addition because it gives them 'a valid excuse to say "assfish".
A Whole New World
Scientists at the University of Exeter discovered a Neptune-sized planet roughly 437 light-years from Earth, and they believe it might give further information into how exactly planets are formed. Using the Hubble and Spitzer Telescopes, the scientists discovered that the new planet had an atmosphere rich in helium, hydrogen, and water vapor — a combination usually deemed too light to David Sing, a professor at University of Exeter explained, "This exciting new discovery shows that there is a lot more diversity in the atmospheres of these exoplanets than we have previously thought."
Rainbow Mountain
While it looks like a post-modern ice cream sundae, this is actually a shot of the Ausangate Mountain of the Peruvian Andes. The mountain earned its colorful stripes due to a confluence of geologic events that took place over millions of years. Although stunning, "painted mountain" is actually quite hard to reach. But many backpackers often make the journey and in June, so do millions of the Quechua — Peru's American Indian population, who make the trek to worship at an annual festival near the peak.
This article was originally published on