4 Awesome Internet Things To Show Your Kid Today
A sprinting chicken, a jellyfish live-stream, and other awesome internet stuff to share with your kids.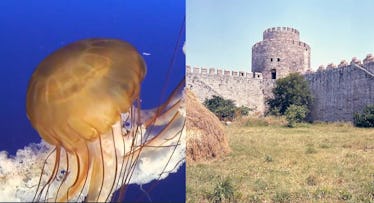 Every day the internet gifts us a weird, wonderful mix of videos, GIFs, and memes, the best of which offer funny, informative, horizon-expanding stuff to share with your kids. Problem is, it takes a while to wade through all the other nonsense to find them. And who has time for that? Not you. Here, then, is a daily batch of cool new internet stuff to share with your kids — and keep you in the viral-loop. Today's finds include a chicken running track, a terrified fortress, and a jellyfish live-stream.
A Live Jelly Fish Cam
Jellyfish are fascinating creatures to watch but there's rarely a chance to see them in their natural habitat. This live feed of the Open Sea Exhibit at Monterey Bay Aquarium offers an up-close look at the creatures from the comfort of your computer. In the tank are a collection of sea nettles. A type of Pacific jellyfish, they have long, almost silky arms and tentacles up to 24 feet in length. At times, watching the colorful creatures bob and float almost feels like watching a psychedelic light show. It's way more fun than watching another bald eagle cam.
A Chicken With Some Sweet Kicks
This is a chicken wearing some rad velcro high-tops. How, exactly, did this chicken get said high-tops on its feet? Did a precocious child put them there? Is this motion capture footage for Chicken Run? Who's to say. But kids will likely have some thoughts.
A Fearful Fortress
Kids love when inanimate objects look like they have faces. And this fortress has the perfect "Oh no!" face. It's especially funny because it's a fortress, so it really looks like it just realized it's getting invaded and is embarrassingly unprepared.
An Animal Photographer's Instagram
Joel Sartore has been a National Geographic photographer for almost two decades and is currently s on a quest to document all the animals of the world. His Instagram (@joelsartore) offers a window into this project and features incredible photos and videos of everything from pied hornbills to seals. Each comes complete with deep captions of interesting animal facts to answer the inevitable questions your kids will have.
This article was originally published on