'Avengers: Endgame' Shouldn't Feel Like Homework. Just Watch These 5 Movies
There are a lot of Marvel movies. But, let's get real, you don't need to watch most of them before the next one.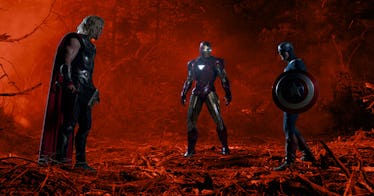 Marvel
In less than two weeks, the biggest movie of the first half of the year will hit theaters. Avengers: Endgame will be the end of an era, mostly because there's every reason to believe that at least two of the core Avengers — Robert Downey Jr. and Chris Evans — won't be coming back to make more of these movies. But what if these movies are actually a little hazy in your memory? Or, more interestingly, what if you kind of can't remember which Marvel movie is which, but you want to catch up a tiny bit before Endgame drops? There are literally twenty movies out on home video, and one movie still in theaters. So, should you binge-watch all of them before seeing Endgame?
Nope! In fact, there are really only five Marvel movies you have to watch to get good and refreshed for Endgame. If you barely care about Marvel, here's the bare minimum of what you need to see. So, if you are cramming before Endgame, hopefully this will make the next two weeks fun, rather than feeling like watching a bunch of superhero homework.
Iron Man (2008)
The film that started it all, and possibly one of the best superhero/action movies of all time. The third act is a little wonky and predictable, but it's hard to believe this insane movie phenomenon started just 11 years ago with this film. Tony Stark built this movie franchise…in a cave…with a box of scraps!!
Reason to watch it before Endgame: On some level, the story of Endgame is the end of a story about that started with Tony Stark. So, it makes sense to revisit his origin.
Where to watch it: Rent it on YouTube
The Avengers (2012)
Though Thor and Captain America: The First Avenger do a good job setting up those respective characters, you can totally skip those movies and just watch the Avengers after you see Iron Man. At the time it came out, the novelty of this movie was nuts. None of us could believe that six superheroes were teaming up in the same movie! Wow! Somehow just seven years later, that idea seems quaint.
Reason to watch it before Endgame: Because the new Avengers movie is actually about the Avengers, watching their first big adventure together will help you understand how this became such an important super team in the first place.
Where to watch it: Rent it on Amazon Prime
Captain America: Civil War (2016)
In between Avengers and Civil War were mostly bad movies. With the exception of Guardians of the Galaxy, the Marvel movies prior to Civil War and after The Avengers are mostly forgettable and, in some cases, straight-up bad. (Thor: The Dark World springs to mind.) Yes, while one could make an argument for watching Captain American: The Winter Soldier or Iron Man 3, you really get everything you need to know in Civil War. And, the movie is nuts.
Reason to watch it before Endgame: Captain America and Iron Man's partnership and friendship basically ends in this movie. The newer movies are connected to that aftermath. This helps explain how all that went down.
Where to watch it: Rent it on Amazon Prime
Avengers: Infinity War (2018)
This is a no-brainer, but if you don't see Infinity War before Endgame you will be utterly lost. In some ways, it appears that Endgame is just like…the rest of Infinity War. These aren't really two separate movies, not really. So, make sure to watch this one right before you see the new one.
Reason to watch it before Endgame: To avoid asking questions like "what's that?" and "why's that?" every five seconds.
Where to watch it: Netflix
Ant-Man and the Wasp (2018)
This is a little bit of a wild card, but other than Captain Marvel, the most recent Marvel Studios movie is Ant-Man and the Wasp. Unlike Captain Marvel, you can watch Ant-Man and the Wasp at home! There's not a ton in this movie that connects to Endgame, other than the fact that Ant-Man being stuck in the Quantum Realm could be pivotal to what happens to the Avengers going forward. And, best of all, this is the only Marvel movie on this list that is specifically about a superhero who is also a dad trying to do right by his daughter. That reason alone makes it worth your time.
Where to watch it: Netflix
Avengers: Endgame is out everywhere on April 26.