'Atypical' Just Ended Its Netflix's Run — Time To Binge It With the Family
The family series Netflix gem hiding in plain sight.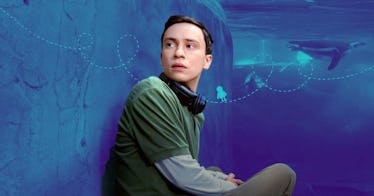 Netflix
Atypical ended its four-season run on July 9, when Netflix dropped the last, pandemic-delayed 10 episodes, and we're sad to see the show end. Truth be told, Atypical was a hidden treasure, as the family drama never generated much hype. Maybe more people will discover it as time goes by and binge all 38 episodes. In the meantime, for those of us who cherished the show, it's time to look back at what Atypical aspired to be, what it pulled off, and its imperfections.
The Peabody Award-nominated series was created by Robia Rashid (How I Met Your Mother, The Goldbergs). The series follows the Gardner family: Sam (Keir Gilchrist), a teen on the spectrum; Casey (Brigette Lundy-Paine), his cool, smart, popular track-star younger sister; and their parents Elsa (Jennifer Jason Leigh) and Doug (Michael Rappaport). They're a loving, supportive unit, with Casey and Elsa uber-protective of Sam, who works at a local electronics store and obsesses over penguins. Doug, early on, can't quite connect with Sam. And there's drama between Elsa and Doug, whose relationship requires mending after she cheated on him. That tension carries over to Casey, who's passive-aggressive toward her mother, especially during seasons one and two. Other key characters include Paige (Jenna Boyd), Sam's friend and eventual girlfriend. She's hyper-smart, relentlessly upbeat, very insecure and infinitely patient, as she rarely gets what she wants or needs from Sam. Then there's Zahid (Nik Dodani), Sam's best friend, co-worker, and roommate, who's a nerd but doesn't know it – or maybe does but doesn't care. He's living his best life and is, for the most part, a good influence on Sam. Initially, Sam spent little time with other kids like him, a story conceit that frustrated those in the autism community. The writers and producers course-corrected, bringing in actors on the spectrum to interact with Gilchrist, who is not, but convincingly portrayed Sam and later acted seamlessly with the new actors. What worked best about Atypical was that each episode made time for the family dynamic. We saw Sam with Elsa, with Doug, with Casey, and, deeper into the show, Sam – after he moved out of the house — with his extended family, Zahid and Paige. But we also spent time with Doug at work as an EMT and with Elsa as she tried to make amends with Doug and did her best not to be too overprotective of Sam and Casey. Even with Sam as the show's focus, or perhaps because he was the emotionally elusive focus, Casey proved more relatable. She was playful but tough with Sam and toed that line between connecting with her parents and pushing them away. Similarly, in seasons three and four, Casey's storylines in many ways felt more engaging than Sam's, as she embraced her bisexuality and started a relationship with a young woman (the superb Fivel Stewart), but contended with anxiety that resulted from expectations placed on her (by everyone: her parents, friends, school, coaches… and herself) as the star of her track team. Season four, which features episodes in which Casey implodes at a track meet and must cope with the fallout, dropped days before Simone Biles withdrew from the Olympics in order to ensure that her mental state didn't wreak such havoc that she'd injure herself during a routine. This makes the episodes powerful and timely, as well as a worthwhile family conversation starter.Of course, Atypical wouldn't have worked at all were it not for its stellar cast. Gilchrist is not only not autistic but was born in England, raised in Canada, will turn 29 in September, and fronts two bands Phalanx (death metal) and Whelm (grindcore). He completely immerses himself in Sam and makes you care. Rappaport starts out doing the befuddled dad bit, but grows into the role, ultimately revealing the character's warmth and desire to be there for (and with) his kids. Leigh is a personal favorite actor. She's never afraid to nudge her roles to the edge of being unlikable or annoying. Like Rappaport, Leigh evolves her character as Atypical progresses, and there's no mistaking that Elsa's overprotectiveness stems from her love for her children. Parents will take a keen interest in how Doug and Elsa find their way – individually and as a tandem – to letting Sam and Casey go, or at least loosening their grip. Finally, there's Lundy-Paine. They (Lundy-Paine is nonbinary and uses they/them pronouns) are remarkable, a total natural who can deliver tears, punchlines, sarcasm, anger, and affection with ease, often flitting from one to another in the span of seconds. Keep an eye on Lundy-Paine. When they win an Oscar or Emmy in a few years, it'll surprise no one who watched her kill it on Atypical.And – major spoilers ahead – Atypical pulls off the rare feat of crafting a finale that provides closure while sending its characters off into whatever the future holds. Sam's season-long plan to visit Antarctica, which concerned the whole family, seems doomed, but Doug asks to go along, and Sam agrees. It's a wonderful, well-earned moment. Almost as touching, Sam and Paige break up, but for the right reasons. He's off to Antarctica and, after enduring a degrading job, Paige lands the opportunity of a lifetime, but it'll take her out of town for a year. For anyone wondering why Paige ever wanted to be with Sam – he's dismissive of her and pretty selfish –- the finale offers a glimmer of what she saw in him. He reaches out his hand to her and says, "Just because we're taking a break from being girl and boyfriend, doesn't mean I'll ever take a break from being in love with you." Meanwhile, Casey is in a good place, and Elsa wins points for not panicking (too much) when Doug and Sam head out the door. And in a perfect touch, when that door opens, Sam is in Antarctica, smiling and happy.
If you've got older kids, Atypical is a great family drama that will rank as one of television's most unique shows.
Atypical is streaming on Netflix.
This article was originally published on