It's Winter, When Smart Parents Go to the Beach. So Go Already.
Cold and tired of winter? Time to get to the beach.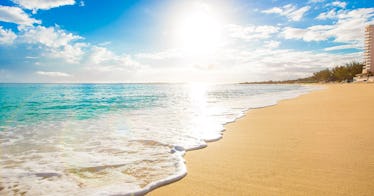 This story was produced in partnership with Atlantis, Paradise Island: 2020 Looks Good from Here.
If you're reading this from the Northern hemisphere, the weather probably isn't great. You may not be on Washington's Mount Rainier — the snowiest place in the U.S. with an annual snowfall of 671 inches (!) — but it's still winter, which isn't ideal. The holidays are over and the slog to spring is just beginning; wouldn't it be nice to go on a shorts-and-sandals vacation right about now?
That's why they invented planes — planes that fly you to Caribbean waters where the temperature right now average 72 F and "wind chill" isn't a term that is used, at all.
So if the Caribbean is your winter playground, where to go? A crumbling motel next to the ocean is still a crumbling motel, and trying to find the "hidden gem" spot — one that is so off-the-radar you'll have the beach to yourself and a vacation for half the price — is a fool's endeavor. Winter beach breaks should be easy-to-book, filled with amenities, and, yes, adventure. They should look something like Atlantis, the ocean-connected resort on Paradise Island in The Bahamas.
Atlantis takes up 171 acres, which means there are tons of different ways to customize your vacation, starting with your room selection. Plan on spending most of your time relaxing and enjoying the view? Opt for one of the luxury beachside options. Want to be out and about? Go for a price-sensitive room and save your cash for the boutiques, shops, and restaurants of Atlantis.
No matter which room you choose, you can wile away the days on the five-plus miles of white-sand beaches, explore the massive water park known as "Aquaventure" a non-stop aquatic playground that features Atlantean-themed towers housing high-speed water slides, a mile-long river ride with rolling rapids and wave surges, 20 swimming areas, a kids water-play fort, and 11 swimming pools. Or visit the casino with tons of table games, slots, and a sportsbook. There's also a full-service spa, tennis courts, a Tom Weiskopf-designed golf course, and open-air marine habitats.
Whether you spend your days falling asleep on the beach or running around the resort, you're going to work up an appetite. There are 40 different dining options including restaurants from celebrity chefs like José Andrés as well as local chefs who've mastered Bahamian flavors.
There's no shortage of things to do and scenery to enjoy at Atlantis, and your trip will be doubly satisfying. With just the right amount of amenities, activities, and discounts available, a family trip to Atlantis is an easy decision, one that gets even easier when you remember that it will also be a vacation from digging your car out of the snow or wrangling your kids into their winter boots. Book now, and you can save up to 35 percent plus receive up to $300 of resort credit.
If you click a link on this page and buy something, Fatherly may earn an affiliate commission.
This article was originally published on