From 'Succession' to 'Spider-Man' Arian Moayed Is a Dad Fighting Stereotypes
"It was important that I help my kids navigate our identity."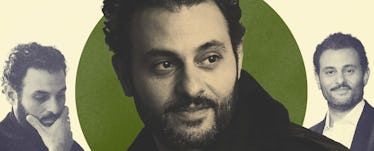 BDG; Derrick Leung; GETTY
Actor dads don't all have the same opinion about whether or not their roles have to project positive images of masculinity or fatherhood. On the one hand, putting positive role models of dads and men out there in the entertainment world is laudable, but, on the other hand, fiction stories need conflict. That said, as an Iranian father, actor Arian Moayed specifically pushed back against a certain variety of typecasting: racist stereotypes.
"At a very early age, I had to say no to parts that represented Iranians as terrorists and victims," Moayed tells Fatherly. "Both of which, we're obviously not."
Although Moayed's acting career has been going strong for roughly twenty years, 2021 was a very big year for the 41-year-old father of two. From his ongoing role as Stewy Hosseini in Succession to entering the MCU as Agent Cleary in Spider-Man: No Way Home to playing Todd in the new Netflix binge-hit Inventing Anna, Moayed is seemingly everywhere right now. On his newest project, he says that "the reason I even auditioned" for Inventing Anna was that Shonda Rhimes was producing the series. Based on a true-life story of a grifter posing as an NYC socialite, Moayed agrees when I tell him that Inventing Anna has all the hallmarks of a show that couples might binge late at night, together. It's a decidedly adult series, but also possesses a certain amount of prestige TV voyeurism that is utterly compelling.
"Yeah, I can see it being a great binge for couples. It's delicious. It's fun to watch. And the crux of the show is how much is too much ambition."
Ambition is something that Moayed knows all fathers have, but in order to hustle for that bread for your family, you can't cross certain lines. For him, that meant being very cautious about the way he was represented in his acting work.
"I was 27 and 28 when, when my first [child] was born, so much younger than most people have kids in our industry have kids," Moayed says. "It was important that I help my kids navigate our identity, and thinking that there just were certain roles I wasn't going to do. And I learned that from my Iranian parents. Not doing stereotypical roles is a way I can honor my kids and my parents at the same time."
In addition to Inventing Anna Moayed is starring everyone's current streaming obsession, HBO's Succession. So, what's next for Stewy in Succession Season 4?
"I think Stewy is Spider-Man!" Moayed says with a laugh. "I mean, to be blunt, I actually don't know. Nick Braun and I talk about this a little bit. We ask each other: 'Do you know what's gonna happen?' or 'What's in the next episode?' But at the end of the day, we're in the same boat. We actually don't want to know. As a fan of the show, I don't want to know what happens next."
Speaking of the future, the biggest question mark for Moayed going forward isn't just Stewy on Succession, but whether or not his new Marvel character, Agent Cleary from Spider-Man: No Way Home, will return.
"I can't believe Spider-Man: No Way Home didn't get nominated for an Oscar!" Moayed says. "I mean, forget that I'm in it for a second. You laughed. You cried. You jumped out of your seat! What more do you want? But no, I'm actually the real Spider-Man. Just kidding. I do hope Agent Clearly returns. I really hope so. Making the movie was amazing. I didn't feel like making a big movie. It felt like making a really cool small movie. It was great."
Inventing Anna streams on Netflix. Succession streams on HBO Max.