'The Animaniacs' Are Coming Back
And Steven Spielberg is on board!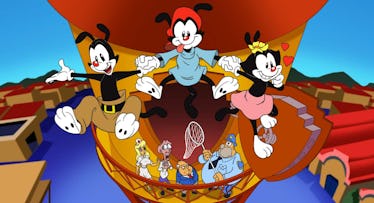 The totally insane-y (and zany to the max) Yakko, Wakko, and Dot just might escape their water tower confines again. Yesterday, it was announced that Amblin Television and Warner Bros. Animation are working on an Animaniacs reboot. And the brilliant, oddball show already has one of its biggest weapons back on board: Steven Spielberg, who produced the original, is reportedly planning to return for the new update. It isn't clear how, when, or where The Animaniacs will come back, but this a good sign for anyone yearning for the return of the Warner clan, world-dominating mice, and any of the show's original characters.
The cartoons of the '90s were strange, but few were as purposely bizarre as Animaniacs. And none were as smart or outright hilarious. A modern send-up of the golden age of animation that also managed to educate kids and lampoon pop culture all while effortlessly blending impossibly clever jokes with good old lowbrow humor. Animaniacs ran from 1993-1998, airing 99 episodes along with a straight-to-video movie. The show was a hit with critics, winning back-to-back Emmys for Outstanding Children's Animated Program in 1996-97. It also spawned such spin-off hits as Pinky & The Brain and paved the way for the Spielberg-produced Freakazoid.
Animaniacs may have been gone for the 2000s, but they were never forgotten. The show became a cult favorite, before regaining an audience when it debuted on Netflix last year. In these times when undying nostalgia fuels countless unnecessary reboots, an updated Animaniacs, with Spielberg at the helm no less, is one project that doesn't sound totally insane-y at all.
This article was originally published on