Andrew Garfield Teases Amazing 'Venom' Crossover Movie
Garfield might not be done playing Spider-Man.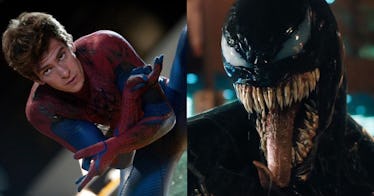 Andrew Garfield's not-really-secret presence in Spider-Man: No Way Home has been celebrated by pretty much everyone, with Garfield himself even saying he was "so grateful" to provide some closure for the character. But maybe this wasn't the end of Garfield as Peter Parker, as speculation has been building about his version of Spider-Man taking on Tom Hardy's Venom in a totally awesome crossover. And it sounds like Garfield is pretty on board with the idea.
During an interview on the Happy Sad Confused Podcast, Garfield was asked about the possibility of reprising the role to face-off against Venom in a future film and said it was "a cool idea." Hardly confirmation but it does indicate that Garfield is at least open to the possibility, which is all the internet needs to begin speculating about Garfield's future in Sony's Venomverse.
Before we even dive into whether or not Andrew Garfield's Peter Parker facing off against Venom is a good idea from a storytelling perspective, let's first look at if this is even possible. The good news is that if everyone was on board, it should be a pretty easy merger. After all, the Venom movies are under the Sony umbrella, which is the studio behind The Amazing Spider-Man films and still owns the film rights to Spider-Man. So legally, there wouldn't be a ton of red tape to cut through, Garfield could simply become the official Spider-Man of Sony's Cinematic Spider-Verse.
And from a narrative perspective, it's not that hard to imagine. After all, No Way Home featured three different Spider-Men (including Garfield) from different universes so it wouldn't be too complicated to say that Garfield's Spider-Man and Venom exist in the same reality. Plus, the fact that Carnage was the villain in the Venom sequel only adds fuel to the speculative fire that somewhere out there is a friendly neighborhood Spider-Man. So why not Garfield?
Of course, there might be some hesitation to bring back Garfield because The Amazing Spider-Man movies did not do well with critics or fans. But Garfield's performance as Spider-Man was widely considered the bright spot in the series and considering how much fanfare he has gotten for his part in No Way Home, maybe now is the perfect time to give Garfield another chance behind the mask.