Andrew Garfield Reveals The One Line He Ad-Libbed For 'Spider-Man: No Way Home'
"That was just me loving them."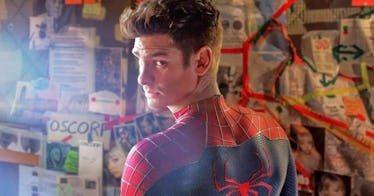 Credit: Sony
Spider-Man: No Way Home felt like a dream come true for longtime fans of the hero, with all three versions of the friendly neighborhood web-slinger appearing in the film to help take down a plethora of baddies. It was a delight getting to see Tobey Maguire, Andrew Garfield, and Tom Holland share the screen and Garfield revealed that one of the most heartwarming interactions between the three was an improvisation from the heart.
As the three Spider-Men are concocting a plan to fight the Green Goblin, the Lizard, and the rest of their foes, Garfield's Parker lets the other two know that he loves them and it turns out that was not in the script.
"There's a line I improvised in the movie, looking at [Maguire and Holland] and I tell them I love them," Garfield told Variety. "That was just me loving them."
No Way Home has proven to be a massive triumph in every sense of the word, as the movie has received rave reviews from critics, made an ungodly amount of money at the box office, and is even drumming up Oscar buzz. But it's the Spider-Man team-up that has been the most exciting for fans and Garfield confirmed in the interview that it was every bit as exciting for him.
While the two Amazing Spider-Man movies are rightly considered, at best, mediocre, the lead performance of Garfield has always been praised by both fans and critics. And his scene-stealing turn in No Way Home felt like a victory lap that he never fully got during his time as Peter Parker, with Garfield saying he was "so grateful" to provide some closure for the character.
"I'm just really, really grateful that I got to tie up some loose ends for the Peter that I was playing…" Garfield explained. "There was so many unanswered questions for my Peter, where we left it. I got to step back in and get some healing for him. And also really supporting [Holland's] Peter, and honoring his character completing that trilogy, not distracting or detracting from it."