Going to Summer Concerts Is Bad. Sitting Near Summer Concerts Is Great.
Outdoor music is really, really easy to pirate. Just take the family on a picnic.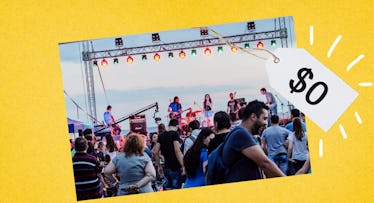 It's 8 pm on a rainy evening. It's warm and I'm sitting in a big armchair right by an open window, clutching a rum and coke in one hand and a paperback in the other. It doesn't matter what it is. I'm not reading it. I'm listening to "Graceless," one of my favorite songs by one of my favorite bands, the National. Here's the rub, I'm listening to the song live. I'm not at the concert and I'm not streaming it.
There's an outdoor venue across Casco Bay called Thompson's Point. It's close — maybe 2 miles away– and Portland, Maine isn't the loudest city so the sounds come in clear. There's a science to having a house that sits in the perfect spot to get super-clear acoustics from a big outdoor concert venue like two miles away, but I'm not sure what that science is exactly. What I do know is that being near a concert is great. For me, as a father and 38-year-old dude, being near a concert is just as good as being at a concert. Better actually.
It's concert season. Lizzo is playing Edgefield in the other Portland. The B-52 are playing the Microsoft Theater in Los Angeles. There's an outdoor concert every Saturday in Brooklyn,'s Prospect Park. And in every case there's probably strip of grass nearby that's not actually in the venue. I'm writing in praise of that strip of grass. Back when I lived in New York, I'd see couples setting up blankets outside of the Prospect Park Band Shell, opening up bottles of wine, and chilling. Back then — this was not long ago — I thought this was lame. I was wrong. Better to struggle to hear than struggle with literally every other aspect of the experience.
Let's face it, going to concerts is hard for parents because of the time commitment. For the most part, there's going to be an opening band, and possibly, an opening act for that opening band. For me, the math of paying a babysitter for 6 hours to sit through two bands I don't care about only to hear one band that I do, just doesn't add up. The best part of music is listening to it. No matter how charismatic a band might be nobody says that they love a band or a singer because of the way the band looks more than the way the band sounds. And as for the National; they're one of my favorite bands, but I probably couldn't pick Matt Berninger out of a line-up and I'm perversely proud of that fact.
Case-in-point: A few weeks after the National, after some quick googlage, I figure out that Jimmy Eat World and Third Eye Blind are playing a show on the same night at Thompson's Point. These are both bands that I loved in high school, but they don't hold near the same contemporary significance for me as the National does. I'm not sure why, but I think all rational people can agree that Third Eye Blind is a slightly bad band with several extremely good songs. And, if I'm being honest, I really only want to hear the big Third Eye Blind song from my excellent concert venue. And, sitting out on my lawn, I 100 percent heard "Semi-Charmed Life" (which is a pretty fucking weird listen when you're rose drunk in 2019).
The point is, I had a lot of fun on both of these nights. Being near a concert reminded me of the good times I'd had going to concerts when I was younger, and sitting in front of the house I bought with my daughter and wife safely inside reminded me of the fact that I've got a good thing going. I don't actually need anything else to get me through this sem-charmed kind of life, baby. I just need sleep.
So, here's my advice: Stop going to concerts. Go near concerts. Get a beach blanket. Park the car near an outdoor concert venue. Bring a bottle of wine. Bring a child. Listen carefully. And if you see Matt Berninger, give him my best.