'AirWolf' and 6 Other Classic TV Shows We Want Rebooted ASAP
If 'Saved By the Bell' and 'Punky Brewster' can return, then why not these cool shows?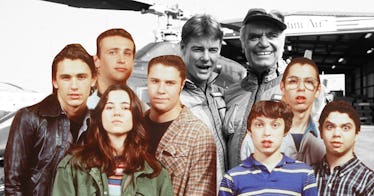 NBCUniversal Television / DreamWorks Pictures
The saying "Everything old is new again" is truer than ever when it comes to television. Just look at what's on the air and on the way: continuations or outright reboots of S.W.A.T., Saved by the Bell, Supermarket Swap, Dexter, Match Game, Animaniacs, Punky Brewster, Sex and the City, Rugrats, and on and on. Why? Credit/blame a perfect storm of reasons: so many venues, such aversion to financial risk, so little creativity or originality, such affection for familiar, iconic favorites, and on and on.
So, we're going to jump on the bandwagon and share some shows that Fatherly would love to see get the update or reboot treatment. And apologies in advance if a few of these are actually already in the works! We're that excited!
Airwolf – The success of the 1983 action film Blue Thunder paved the way for two TV shows, one directly based on the movie and the other inspired by it. The former, Blue Thunder, was canceled after just 11 episodes, while the latter, Airwolf, ran four seasons. Airwolf tapped into the Cold War era, with a supersonic, high-tech helicopter at its core, while Jan-Michael Vincent, Ernest Borgnine, Alex Cord, and Deborah Pratt brought the human element, or tried to… most of them, anyway. Vincent never seemed particularly engaged, though Borgnine and Pratt had fun, and Cord rocked his white suits and eye patch. There's a kernel of an idea in there, the helicopter as a coveted savior/weapon/peacekeeper, that might fly today as a story anchor given the tensions between the U.S. and Russia. Borgnine and Vincent are both deceased, Cord is 87 and apparently retired, while Pratt has shifted into directing (and recently helmed a Grey's Anatomy). But how cool would it be if Troian Bellisario, the talented daughter of Pratt and Airwolf creator-producer Donald Bellisario, headed up a next-generation iteration?
Step by Step – The Brady Bunch all but perfected the blended family plot for pathos and laughs during its celebrated run, and Step by Step – from the Miller-Boyet team that gave us Full House — found similar magic nearly two decades later. Patrick Duffy and Suzanne Sommers sparked as a divorcee and widow who find love again and form an instant family. Yes, they totally sprang it all on their kids, and yes, the kids were total stereotypes (jock, nerd, etc.), but the stories had heart and the actors clicked, with Staci Keanan and Sasha Mitchell standing out. While a continuation might make sense on the surface – where are all the characters now? – several of the actors left the business (Keanan is a deputy district attorney in L.A.), and Mitchell left the show after trouble with the law. So, maybe a one-off telemovie? And then take things step by step.
Hollywood Squares – The original Hollywood Squares, which ran from 1966 to 1980, was one of the greatest, sly-est, dirtiest game shows ever. Peter Marshall made for a masterful host and the old regular celebrities, including Rose Marie, Cliff Arquette (as Charley Weaver), Desmond Wilson and Rich Little, but especially Paul Lynde, delivered genuine laughs. Subsequent reboots proved intermittently amusing but failed to recapture the success of the original. How about a new version for, say, Netflix, which would allow for F-bombs and raunchier jokes?
Hill Street Blues – By just about any measure, Hill Street Blues ranked as one of TV's finest shows, period, and set the bar for cop shows that followed. Much of the cast and production team has passed away or retired – RIP, creator Steven Bochco, Michael Conrad, Kiel Martin, Rene Enriquez. But it'd be a dream come true, if even for a two-hour reunion movie, we could catch up with Frank Furillo (Daniel J. Travanti), Joyce Davenport (Veronica Hamel), Mick Belker (Bruce Weitz), Bobby Hill (Michael Warren), Andy Renko (Charles Haid), Neal Washington (Taurean Blacque), Howard Hunter (James B. Sikking) and Lucy Bates (Betty Thomas), maybe with Betty Thomas serving as director (she directed The Brady Bunch Movie, Dream On, Private Parts, Dr. Doolittle and Grace and Frankie, among other features and shows).
Lizzie McGuire – Fans of the excellent, Emmy Award-winning Disney Channel family series, which ran from 2001-2004, nearly saw their wish of an update come true. Nearly. Hilary Duff posted photos from the set in New York City to her social media accounts in the fall of 2019. Two episodes were shot. Then creative differences killed the reboot. And those differences illustrate the problems inherent in continuations. According to reports, Duff wanted to focus on Lizzie's life at 30 years old, with a realistic approach, while Disney sought more of a family-friendly feeling. We get it. Business is business. But somewhere, Lizzie's animated alter ego is still making a very, very, very pouty face. As are we. This has to happen!
Freaks and Geeks – It'll never come to pass, but one of TV's best-ever shows deserves a reboot. Created by Paul Feig and executive-produced by Judd Apatow, the high-school dramedy ran for just one season in 1999-2000 and starred a Who's Who of burgeoning young talent that included Linda Cardellini, John Francis Daley, James Franco, Samm Levine, Seth Rogen, Jason Segel, Martin Starr, and Busy Philipps, as well as film and TV veteran Joe Flaherty. The show, with utter heart and laser-like accuracy, explored friendship, family, maturation, and the universal desire to fit in somewhere, anywhere. If by some miracle Feig and Apatow ever managed to revive Freaks and Geeks, our vote would be a limited series, which would allow character and story arcs to be developed fully.
Remington Steele – The more things change, the more they remain the same… or do they? Remington Steele, which aired from 1982 to 1987 (four seasons, followed by a half-dozen telemovies), centered on a female private investigator (Stephanie Zimbalist) who quickly realized she could attract more clients if those prospective clients thought she was a man. Thus… Remington Steele (a pre-007 Pierce Brosnan). The two sparred and sparked over cases and affections. That premise, sadly, would still work today, and for this one we'd suggest fresh faces in the leads, perhaps with Zimbalist and Brosnan (who reportedly didn't get along great back in the day, but do now), dropping in to pass the torch and share their experiences (with their… children?).
What other shows do YOU think should be rebooted or continued?
This article was originally published on