Adam Sandler's Netflix Special Rocks the Best Modern Love Song for Moms
Your spouse will not be able to resist this silly but sentimental serenade.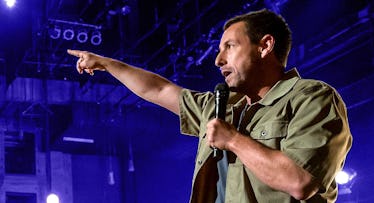 Netflix
By now most people with a Netflix login know that Adam Sandler's first stand-up special in decades is far better than the plot of Funny People would lead anyone to believe. All jokes aside, it's the music featured in 100% Fresh that makes it the perfect pick for date night. From his emotional tribute to Chris Farley, to his to the catchy yet helpful rap "Phone, Wallet, Keys," Sandler's special was full of new songs, but his best work by far was his closer, an all too familiar tune for 1998 movie The Wedding Singer "Grow Old With You." Only this time around, the words weren't about Drew Barrymore or her character Julia. The updated lyrics were about the mother of his two daughters, his wife Jackie, who's the center of the best modern love song to date.
The first time Sandler fans heard this love song, it was from the perspective of Robbie Hart, a struggling musician moonlighting as a wedding singer circa 1985. Robbie, who's engaged to long-term girlfriend Linda, meets Julia, who's engaged to long-term boyfriend Glenn, at a gig where she's working as a waitress and there's an immediate spark. Naturally, it's not a squeaky-clean courtship and the song was part of an elaborate Billy Idol-assisted effort to save Barrymore from becoming Mrs. Julia Gulia. As unrealistic as all that was, the lyrics were as relatable as they were sweet and tune as catchy as it was accessible. Not every guy could get Billy Idol to help them steal someone's girl, but they could sing, "I wanna make you smile whenever you're sad, carry you around when your arthritis is bad."
The song worked enough as is, but audiences really had no idea how heartfelt it had the potential be. Sandler himself probably had no clue that of all countless clever songs he'd write, this one would eventually hit so close to home for him, his wife, and so many moms and dads decades later. After all, he did not meet Jackie Titone, her maiden name, until a year later after Rob Schneider introduced the couple in 1999 — which might explain why the Sand man keeps his anti-vaxxer buddy around, but still but does not censor his jokes on the subject.
Much like Sandler's past movies, Jackie makes several appearances in his act. We learn that their sex life is adventurous (their safeword is "really?") and how smartphones have confirmed that she's always right. Even her 101-year-old grandmother is referenced, who took 101 punches in the shoulder from her grandson-in-law at her party in the name of tradition. And despite mentioning her vaginal flatulence, at no point does he waiver on his honest, not always flattering observations about love and marriage. He does not present the song "Grow Old With You" as an apology, but as a celebration of how cool she is for standing by him on every bit.
"I love you, foot rub you, tell you're the only one I'm thinking of. Make big decisions with you, try new positions with you — even sit and watch fucking Eat Pray Love … two times in a row," he sings. As relatable as the first draft was, it hardly compared to the real-life love story relayed through this rendition. They met twenty years ago, she drank him under the table, and it was love at first site. She's tolerant of him dressing like a pimp and only lies when she tells him that his dick looks big. He doesn't have to tell us that he sings this song to her regularly, that's as obvious of his love for her. But Sandler tells the crowd anyways because he wants them to love her for all the reasons he does. And he's so good at his job, of course, we do.
The sentiment of the song tells dads like Sandler that they don't have to be in the best shape, have the best judgment, or say everything the right way, as long as they stand by what they love about each other the way that the Sandlers stand by his comedy and her fodder for it. Astute in all in its simplicity, this modern love song communicates that the healthiest expectations about love boil down to having the most fun watching the years fly by with another person. And as much as the $250 million deal he made with Netflix may make their marriage easier, Sandler knows the tune would be the same if they had nothing — just like anyone else who sings it to their spouse.
"We don't need a big house, we don't need any money. All we need is you and me and Sadie and Sunny," he sings. "I've got everything I want growing old with you."
Adam Sandler: 100% Fresh is streaming now on Netflix