A Parent's Guide to the New Sesame Street Show: 'Esme and Roy'
Who is it for? What's it about? Should you watch it?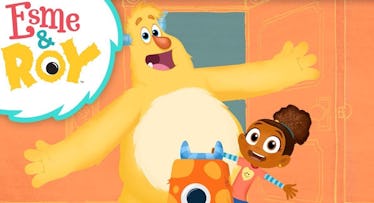 HBO
The creative factory behind the beloved children's show Sesame Street have cooked-up a new series all about monster babysitters. It's called Esme and Roy and, not surprisingly focuses on two cartoon characters named Esme and Roy. Unlike Sesame Street itself, this show — created by the Sesame Workshop — won't be found on PBS, but instead, will air on HBO.
So, is this new cable series worth it? Here's what parents should know about Esme and Roy.
Who Is the Show For?
Like Sesame Street itself, Esme and Roy is very clearly for children aged 4-5, meaning they're either just about done with preschool or 100 percent in kindergarten. Put this show in the same age-bracket as a Paw Patrol, though, ahem, in a slightly more refined category. 6-year-olds might still be in this show, particularly if they're girls since the titular Esme is a great, strong, fun, and kind role model for young women.
What Is the Show About?
Basically, the show is about Esme — a human girl — and Roy — some kind of generic monster — who are called in as babysitters for other young monsters. In each situation, Esme and Roy have to overcome a problem. For example, in Lunch Crunch, a multiple-tentacled monster named Simon need to be given lunch, but he doesn't want to try new things. The educational purpose of the show then is all about how Esme and Roy creatively solve these low-key problems without getting frustrated or being too pushy. This often involves a lot of singing and dressing up in ad hoc costumes. How did Esme get a job as a monster-sitter? Why is she colleagues with Roy? Do they get paid for their monster-sitting? None of these questions are answered, so feel free to make up your own backstory, in case your kids ask.
Oh, and for skittish kids, don't worry about the idea of the show being about monsters. These monsters aren't scary! Just hungry and occasionally, cranky.
Is the Show Good?
Esme and Roy is good, partly because it feels original and familiar at the same time. The animation is cheerful without being saccharine, and warm without making you sick. Does Esme giggle a lot, and occasionally for seemingly no reason? Yes. Is the primary theme song a frighteningly effective earworm? Totally, but, all in all, the show is charming enough that parents can easily overlook anything that might feel too gratingly cute.
Okay, But is the Show Worth It If You Don't Have HBO?
This depends on whether or not you'll be down with other HBO programming, but if the answer is yes, then getting HBO to have your kid watch Esme and Roy isn't the worst idea. It's also good to remember that most new Sesame Workshop stuff will likely hit HBO in the near future.
But, if you're unsure whether or not this new show is worth your time, HBO will be offering a free sample of the show on Monday, August 20 at 10 am.
The show itself debuts on HBO on Friday, August 18 at 9:30 am.
Here's an exclusive clip from the show in which Esme and Roy help out a little monster named Dumpling.