8 Great National Parks Located in or Around Major Cities
Fun for the whole family.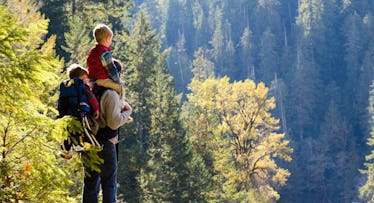 Alongside The Fast and the Furious franchise, the National Parks are one of our country's most prized creations. Thing is, so many go unseen. There are 84.9 million acres of land in the U.S. National Parks system, which means there's a whole lot more to stare at than geysers and grand canyons. And you don't even have to trek that far to see them: many are located in or around major urban areas. As it's National Parks Week, we decided to highlight eight great parks that offer a taste of the great outdoors without going too far outside the city limits.
This isn't technically a National Park, but that doesn't keep the Golden Gate Recreation Area from being one of the most visited spots in the entire National Parks Service. Why? The 80,000-acre area perfectly blends San Francisco's unique urban appeal with California's natural beauty. The area includes beautiful hiking trails near the Golden Gate Bridge, the ancient and unreal redwoods of Muir Woods, and even the infamous Alcatraz. Families will find endless ways to enjoy a day in this massive terrain, all while still enjoying one of America's best cities.
Located less than an hour outside of Los Angeles near Thousand Oaks, the Santa Monica Mountains is a criminally underrated coastal mountain range. The mountains are breathtaking, and most are fall under the Santa Monica Mountain Recreation Area, including the 67-mile Backbone Trail, which offers scenic vistas can be enjoyed on foot, on a bike, or even via horseback. The mountains also feature several historical sites, Native American centers, and, since this is Southern California, world-famous beaches.
The Boston Harbor Islands is a string of 34 islands located just south of Beantown. Tide pools, hiking trails, and even the opportunity to camp under the stars all await visitors. And, as no city is more associated with America's rich history than Boston, the Harbor Islands offer several fascinating historical sites, including a Civil War-era fort and Boston Light, a 300-year old lighthouse.
One of America's 25 National Military Parks, Chattanooga is the site of one of the most famous battles in the Civil War. In fact, when the Union gained control of the city a Confederate famously wrote the loss was "…the death knell of the Confederacy." The park, located just outside of Atlanta, offers a thrilling look into America's complex, sometimes ugly past.
At 14,410 feet, Washington's Mt. Rainier is the highest place in the contiguous U.S. As you'd expect, the area is a haven for climbers, but the park also offers some 210 miles of trails as well as 34 waterfalls, 62 lakes, and 25 glaciers. A must-visit for parents: the Alta Vista, a paved, stroller-friendly trail, with scenic mountain views. Oh, and Rainier, which is an hour outside Seattle, is actually an active volcano.
Hiking, bird watching and hermit-crab scouting aren't really activities one equates with Queens. But those are some of the activities awaiting in the 18,000-acres of wetland in Jamaica Bay,, one of the three areas of Gateway National Recreation Area. Twenty-seven thousand-acres in total, the three parks offer a respite from the run-you-ragged life of NYC. Fishing, lighthouse tours, and trail-hiking are some of the top activities in Sandy Hook, while we hear Staten Island has great pizza.
At 172,971 acres, Biscayne National Park is the largest in the country. Most wouldn't think this, however, as most of that acreage is underwater. As such, the park, located just south of Miami in the Florida Keys, is home to best-in-class snorkeling and scuba diving. Coral reefs, mangrove forests, guided boat tours, and glimpses of pirate wrecks await, as do more than 500 species of fish and variety of endangered species. Spend more than a few hours there and you wouldn't believe you're but miles from Miami Beach.
Remember the Alamo? Of course you do. The Alamo is one of four missions protected in this National Park and UNESCO World Heritage sight. A string of Franciscan communities built in the early 1700s where early settlers sought refuge from disease and danger, a glimpse at the crumbling facade of these missions is a glimpse into a history that helped create modern-day San Antonio — and much of Texas culture.
National Park Service