Who Wants a Nintendo for Christmas? Here's Eight Bits on '8-Bit Christmas'
Here's what to know about that new Neil Patrick Harris movie all about a Classic Nintendo.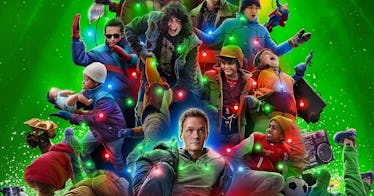 HBO Max
We've all wanted THAT holiday gift and would do pretty much anything to get it. And, later, we've all told tall tales about getting our hands on said gift. Well, HBO Max has gone ahead and made a movie that's straight out of our thoughts, and, just for fun, they've set it in the 80s. Premiering November 24, 8-Bit Christmas stars Neil Patrick Harris as Jake Doyle, a dad who recounts for his young daughter a childhood memory in which he risked it all for a Nintendo Entertainment System.
As Jake tells the story, with embellishments that turn it into a Goonies-style quest, viewers are treated to flashbacks of 11-year-old Jake (Winslow Fegley of Nightbooks) and his friends on their epic quest. Steve Zahn and June Diane Raphael co-star as John and Kathy Doyle, young Jake's parents. It's their disapproval of Jake's video game obsession that sends him and his pals off on their wild mission to attain a classic NES (Nintendo Entertainment System). Fatherly recently chatted with Harris, Fegley, and Zahn by Zoom, and here are the best eight bits we got about 8-Bit Christmas.1. Harris and Zahn never worked together on the movie, but Zahn plays Harris's dad. Harris and Fegley play the same character, but also never shared any scenes.2. Last year for Christmas, Fegley coveted an Oculus Quest and he got it. "I use it all the time. It's super-fun," he says. And this year? "As an early Christmas gift, I got a drone," he replies. "It's got a really nice camera on it. I've been flying that around." 3. Harris remembers graduating as a kid from tricycle to bicycle and totally craving the big-boy bike. "That was my thing," he says, laughing. "And I just have great visual memories of getting a bike. I think I got it under a tree from a bearded dude with a hat. And then my dad got to teach me how to how to ride the bike."4. Zahn's favorite Christmas movie is Christmas Vacation. "I think I quote that more than any movie," he says. "The Griswolds. And it was a Chicago movie, too. I love that movie. I think that's a great classic. Or put on some Jimmy Stewart in It's a Wonderful Life. I like the old, old-school too. What would you pick?" Us? We'd go with It's a Wonderful Life and Elf, and we still think Die Hard is a Christmas movie. Zahn laughs and says, "Die Hard is a Christmas movie!"5. Harris was a child actor and today he's father to two pre-teen kids. Those experiences, he notes, make him "fiercely" protective of any child actors with whom he works. "It's not as if I have an agenda," he explains. "I just think it's a really tricky dynamic because kids' attention spans and breadth of knowledge don't span for 12-hour days with a bunch of adults in unions having to pump out content every day. So, you have to be very aware of their emotional intelligence and their emotional well-being in a construct that is a challenge because it's not a playground and they have to be paying attention and be focused. I think they need to have respect and the ability to monkey around and be dorks and, at the same time, still be focused and do the job that's being asked of them. You want the experience when it's all done to be a net positive, because you'd hate for them to look at the experience of making anything in retrospect as a bad time."6. Fegley enjoys acting, but is still figuring out what, exactly, he enjoys about the craft. "I don't know," he says. "I like meeting people on set. It's a lot of fun to just pretend to be somebody else as a job. When people ask me, 'How did you get into it?' I don't even really know what to say because it's always been that way, I guess. My parents are actors. My siblings are actors. My whole family, they all act. I watched my brother and my sister. It was like, 'Okay, I'll do it, I'll guess.' I started with student films and background. I got an agent and started doing stuff. I just love the whole thing."7. Zahn's kids are 21 and 19 now, but not too long ago he often chose projects that his kids could see. It's why his resume expands well beyond Happy, Texas, Dallas Buyers Club and the recent sensation, The White Lotus, to include The Diary of a Wimpy Kid films, Phineas & Ferb, Dr. Dolittle 2, Chicken Little and The Good Dinosaur. "It's interesting," he notes. "When I did Diary of a Wimpy Kid, my son was nine and my daughter was seven. They both loved the books. And that script, when they saw that on the breakfast nook, they were like, 'Are they making this into a movie?' For the first time, they were really excited about me doing something. And at that point, I was like, 'Yeah, I have to do this.' And a lot of the animated stuff I've done, I did that predominantly because I have kids. It was fun for them at that age to go see something that Dad was in because the other stuff wasn't appropriate."8. Harris made his film debut in 1988's Clara's Heart, with Whoopi Goldberg, and rose to fame with Doogie Howser, MD. He subsequently had ups and downs in his career, but reports that he enjoys performing as much as ever and is glad he stuck it out. "The older you get, you gain some perspective," he says. "When you're younger, and you're acting, you never know what's happening next and if this is something you're going to do for the rest of your life or a cool chapter among other things that you'll wind up doing. But, I've always enjoyed the process. I love being on a set with new people and figuring out what the shot is and new lines and being on location and going to interesting places. I love being on stage with different audiences. So, I enjoy the process of doing the entertaining stuff. That hasn't changed from when I was younger. Getting to make a movie with Whoopi in Baltimore, Maryland, when I was 14, it was just such a rare experience that I still vividly remember where the locations were and conversations we had. So, it's more experiential for me as the takeaway, and that never changes."8-Bit Christmas begins streaming November 24 on HBO Max.
This article was originally published on