8 Amazing Ways to Spike Your Lemonade
Eight bartenders give us their go-to recipes.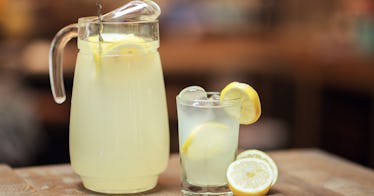 One of the great dad traditions of summer, along with spending countless hours at the grill and putting sunscreen on your bald spot, is making the perfect spiked drink. And when it comes to adding some adult flavor to a classic summer beverage, there is no better choice than an ice cold lemonade.
"Lemonade is fantastic because there's so much you can create with it. You can choose almost any alcohol and make a delicious drink out of it," says St John Frizell, cocktail writer, award-winning bartender, and owner of Fort Defiance, a critically-acclaimed bar in Red Hook, Brooklyn.
Frizell's favorite lemonade concoction is the classic Tom Collins, which contains gin, club soda, and lemonade. But he says vodka, whiskey, and rum are all acceptable additions to your drink. Here's why: Lemonade is sharp and sweet enough to not be overpowered by hard liquor, yet mellow enough that you know you're sipping a drink when you taste it. Stick to a ratio of an ounce and a half of booze per four ounces of lemonade as a base and you can't go wrong. Then you're free to add some fizz, some floral notes, a few dashes of bitters, or whatever you think up, really.
To inspire you, we asked eight bartenders to share their favorite spiked lemonade recipes. The only thing you have to figure out is which you want to try first.
1. Valencian Arnold Palmer
Made by: Alex Attart at The Tapa Toro in Orlando, FL
Ingredients:
1 oz Deep Eddy Sweet Tea Vodka ¾ oz Licor 43 ¾ oz brandy 1 oz simple syrup Splash soda water Fresh lemon juice Valencian orange
Directions:
In a cocktail shaker, muddle citrus and combine wet ingredients. Shake and strain into a Collins glass over ice. Run orange peel around the rim of the glass. Garnish with lemon wheel.
2. Raspberry Lemonade
Made by: Bar Manager Rob McCaffrey at Lincoln Tavern & Restaurant in South Boston
Ingredients:
2 oz. of Bulleit Bourbon 1 oz. of Meyer Lemonade Mix 1 oz. of mint simple syrup 3 raspberries.
Directions:
These ingredients are shaken with some crushed ice, rolled into a beer can glass, and garnished with mint and raspberry.
3. Starlite Basil Lemonade
Made by: David Toby beverage director of Jack Allen's Kitchen and Salt Traders Coastal Cooking in Austin, Texas.
Ingredients:
Citrus salt 1.5 oz Starlite Vodka .5 oz Barrow's Ginger Liqueur 2 basil leaves 2 lemon wedges 3/4 oz simple syrup Soda
Directions:
Rim 12 oz Collins glass with citrus salt. Add basil leaves, lemon wedges and simple syrup to mixing glass and muddle. Fill with fresh ice. Add vodka and ginger liqueur. Shake. Fill a collins glass with fresh ice. Strain drink over fresh ice while filling with soda. Garnish with lemon wedge and a basil leaf. Add a straw.
4. Nose Dive's Spiked Lemonade
Made by: Walker Pickering, bar manager at Nose Dive Gastropub in Greenville, SC
Ingredients:
1 1/2 oz. Nolet's Gin 1 oz. simple syrup 1 oz. lemon juice 1/8 oz. (bar spoon) yellow chartreuse
Directions:
Shake well and pour over crushed ice into a collins glass Express the oil out of the lemon rind, on top Garnish with Italian parsley Add a splash of soda water
5. The IRONS Blueberry Lemonade
Made by: The IRONS Restaurant & Bar at Hilton Mystic
Ingredients:
12 oz. of fresh lemonade 2 oz. of Triple 8 Blueberry Vodka Handful of blueberries Lemon Wheel
Directions:
Fill a 16 oz pint glass to with lemonade.Add 2 oz. of blueberry vodka.Add a handful of fresh blueberries and a lemon wheel as a garnish. Stir and enjoy.
6. Ginger Ninja Spiked Lemonade
Made by: Joaquin Carrasco of Orlando's Dragonfly Robata Grill & Sushi
Ingredients:
For Ginger Syrup 3 oz. fresh chopped ginger (doesn't need to the peeled, just washed well to get dirt off) 1 cup water 1/2 cup sugar For Cocktail 1 1/2 cups of water 3/4 cup Boyd n Blair vodka (or similar) 1/2 cup of fresh lemon juice
Directions:
For ginger syrup, bring all ingredients to boil then reduce to simmer for 15 min. Cool then strain.
For the drink itself, combine all with ginger syrup in a medium pitcher. Stir and serve immediately. Garnish with lemon slice and slice of ginger or candied ginger.
7. Stolichnaya Blueberry Lemonade
Made by: Chef Daniel Bruce at the Boston Harbor Hotel
Ingredients:
1.5 oz. Stolichnaya Red Vodka 3 oz. Blueberry Lemonade .5 oz Cointreau
Directions:
Mix all ingredients together into a tall glass. Top with soda and fresh blueberries.
8. Spiked Lemonade
Made by: Jeremy Oertel, Head Bartender at Donna in Williamsburgh, Brooklyn.
Ingredients:
1 oz Templeton Rye Whiskey 1 oz Lemon Juice 0.5 oz Honey Hard Cider (something like Angry Orchard Crisp Apple)
Directions:
Shake all ingredients except cider. Pour into a pint glass with ice and top with hard cider. Garnish with a lemon wedge.
This article was originally published on