4 Best Family Thanksgiving Movies Streaming on Netflix, Disney+, HBO Max and Apple
Hit up Thanksgiving with some old friends.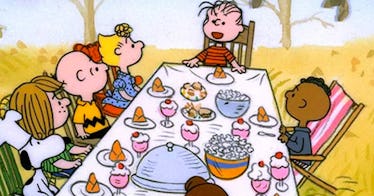 United Feature Syndicate
Finding Christmas movies isn't hard. Finding family movies to stream isn't hard either. But what about finding Thanksgiving movies? Sandwiched between Halloween and Christmas, the genre of Thanksgiving movies for the entire family has been woefully underdeveloped.
So, if you're looking to stream some movies for Turkey Day, and you want to get the whole family involved, your options are a bit limited. That said, we've herded your best bets and put them all here. Check out Fatherly's guide to the best Thanksgiving movies for the whole family streaming on Netflix, Disney+, and Apple TV+, and HBO Max.
Freebirds
This 2013 animated comedy stars Owen Wilson — because of course, it does — as a talking turkey who doesn't want to end up as Thanksgiving dinner. It's not the most brilliant family animated comedy, but it's one of the few contemporary kids movies actually about Thanksgiving that is also funny.
Freebirds is streaming on Netflix.
Chicken Little
This adaptation of the "classic" story of Chicken Little stars a bird, so this feels close to being a Thanksgiving movie because there's a bird central to the story and the overall color scheme of the movie feels 100 percent Thanksgiving. A decent animated flick to watch with your 5-year-olds.
Stream Chicken Little on Disney+ here
Teen Titans Go! Thanksgiving
The junior members of DC's Justice League had their own Thanksgiving episode. What does Robin the Boy Wonder do for Thanksgiving? Find out in this special episode!
Stream Teen Titans Go! Thanksgiving on HBO Max here.
Charlie Brown Thanksgiving
Charlie Brown's epic and famous Thanksgiving special is streaming on Apple TV+ It sometimes appears on other network stations, but if you need it right now, Apple TV+ is your best bet.
This article was originally published on