5 Best Daft Punk Songs to Listen to With Kids
The robot dance duo is splitting up IRL. But your family doesn't need to know.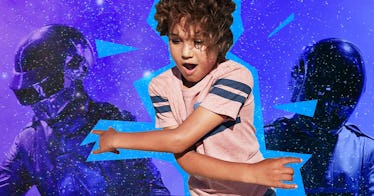 Getty
Daft Punk is playing in my house. As I write this, my daughter is twirling to "Around the World". She's losing her mind, not because she knows that the French robots have broken-up, but because she has no clue which bands are together and which ones aren't and she's just feeling these beats. She's three-years-old. The Beatles are a contemporary band for her, too.
So, yes, it sucks that Daft Punk just broke up. I'm bummed out by this fact, and if you're anything like me you're probably suffering, too. But, let's get real. Your kids don't need to suffer. And if by some parenting oversight you've not introduced your children to the sick beats of Daft Punk, today is the day to do so.
According to Pitchfork, there has been no reason given for Daft Punk's breakup. Let's hope we never find out. For now, let's celebrate the brilliance of Daft Punk and dance around the living room like idiots with our kids.
Here are the five best Daft Punk songs to play for kids.
5. "One More Time" — Discovery (2001)
Okay, so the very ending of the music video is a little bit scary, but the song itself is so freaking kid-friendly. Not the greatest Daft Punk song of all time, but certainly a track that feels perfect for demanding toddlers. When does "one more time" not mean "one more time?" With small children and in a Daft Punk song.
4. "Derezzed" – Tron Legacy (2010)
The tragical under-appreciated sequel to 1982's Tron gave us not one, but two versions of Jeff Bridges, both over-the-top and hilarious, even some of that hilarity was not intended. However, the one thing this movie got right was the Daft Punk soundtrack. Less fun to listen to as a whole piece, it's best if you stick to the big break-out single, "Derezzed." The zig-zag quality of the beats on this one will remind you of a kid-in-quarantine bouncing off the walls. In a good way
3. "Da Funk" – Homework (1997)
If there was one Daft Punk song you should introduce your kid to first, it should probably be this one, only because it proves the power of the duo's beats without words. The trippy video features a nightmarish version of a creature that answers the question What if Admiral Ackbar was a dog? But, for tweens, this video will probably scan as awesome. Meanwhile, the song itself is perfect for all ages.
2. "Harder, Better, Faster, Stronger" – Discovery (2001)
The dancing has from one version of the "Harder, Better, Faster, Stronger" video are better than most things on Daniel Tiger. Yep. I said it. My 3.5 year old can't get enough of these hands. I can't either. The song still slaps, too. If you're still associating this track with the mash-up Kanye version, I sort of feel sorry for you. Your kid will love this one.
1. "Around the World" – Homework (1997)
Come on. This song has it all. Kids love repetition Kids love words they know. Kids love circles and this song says "around" like a million times. The beat is also perfect and you've never lived until you've seen a toddler figure out their own version of how to dance to this. "Around the World" is a masterpiece. Do yourself and your family a favor and blast this one right now. Just make sure your speakers don't suck.
By the way, Daft Punk vinyl is crazy expensive on eBay. I trust me. I know.
This article was originally published on